 Campaign finance reports show Florida Governor Rick Scott -- who framed recent evidence-defying efforts to purge state voter rolls, limit registration and reduce early voting hours as a protection of "honest" elections -- hired an alleged Miami-Dade absentee ballot broker during his 2010 gubernatorial campaign.
The Republican Party of Florida has not responded to HuffPost's request for comment about the campaign finance records, which indicate only that Llanes was paid by Scott's campaign, provide no further specifics as to her services, and do not constitute evidence of any wrong-doing. Llanes previously told El Nuevo in Spanish that she does help register voters, but "I am not a boletera. I am a quiet person, in my house, and I help all I can."
"When she came out, we approached her because we believed she was carrying ballots," Bolaños says. "She started yelling that she was being violated and that she had chest pains."

The ex-cop says Llanes, who allegedly had the ballots in a bag, ran into an apartment. When two Hialeah Police officers responded to the scene, they found no ballots, and Llanes denied the accusations.
Technically tasked with offering to help voters fill out ballots or ensure their votes are mailed, which is legal, boleteros have the opportunity to sway or bribe voters, change ballot selections, and forge signatures. It is illegal in Florida to possess more than two absentee ballots, but some have reportedly been spotted delivering stacks of ballots to post offices or election headquarters.
"It's an insult to the democratic system," Cambó said. "Judges have to be almost saints, and they can't be hiring boleteros."
Such ballot brokers are especially prevalent in highly political and Republican-heavy Cuban-American Miami-Dade communities like Llanes' Hialeah, where boletera Deisy Cabrera was recently charged with illegally collecting 31 ballots -- including one forged on behalf of an elderly woman who lay unresponsive in an assisted living facility.
Boleteros "hover on the edge of the letter and spirit of the law," state Democratic campaign consultant Christian Ulvert told the Miami Herald last month. "These boleteros in Miami-Dade have become like some political consultants. You don't want them working for you. But you don't want them working against you. So some candidates figure you just have to pay them."
"Like many others in our community, I knew that certain well-known boleteras controlled blocs of absentee votes in Miami-Dade County mostly from elderly voters either too senile or too indifferent to care. And that these boleteras are available for hire," wrote Paul Crespo, a losing GOP candidate for state representative, in a letter to the Miami Herald.
Crespo added that "Absentee ballot fraud is undermining the integrity of our elections...We can no longer turn a blind eye to this electoral cancer."
Related
Before You Go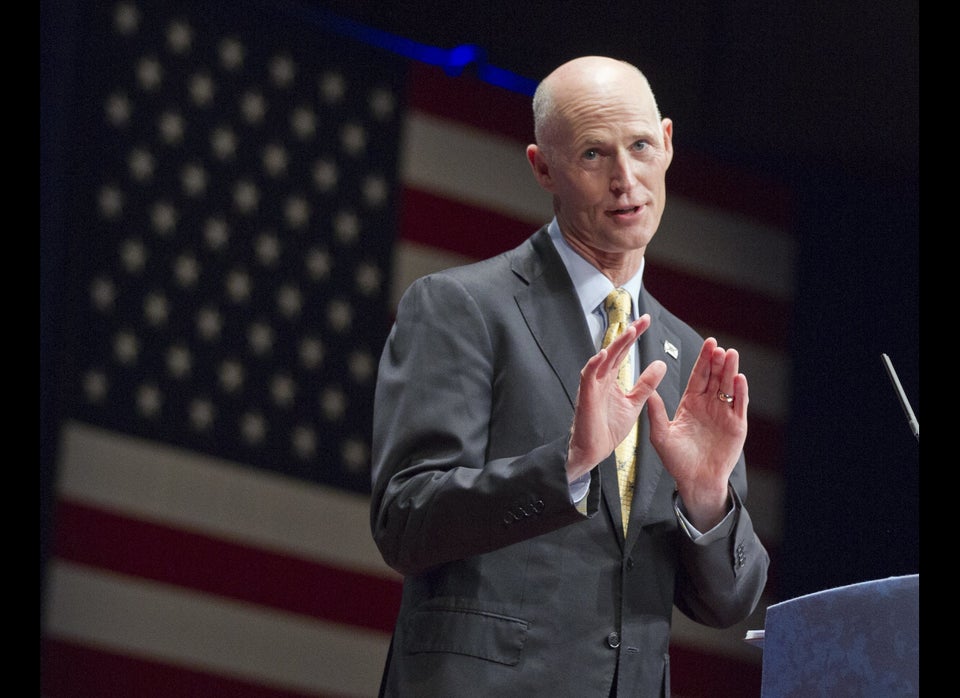 Rick Scott Controversies
Popular in the Community