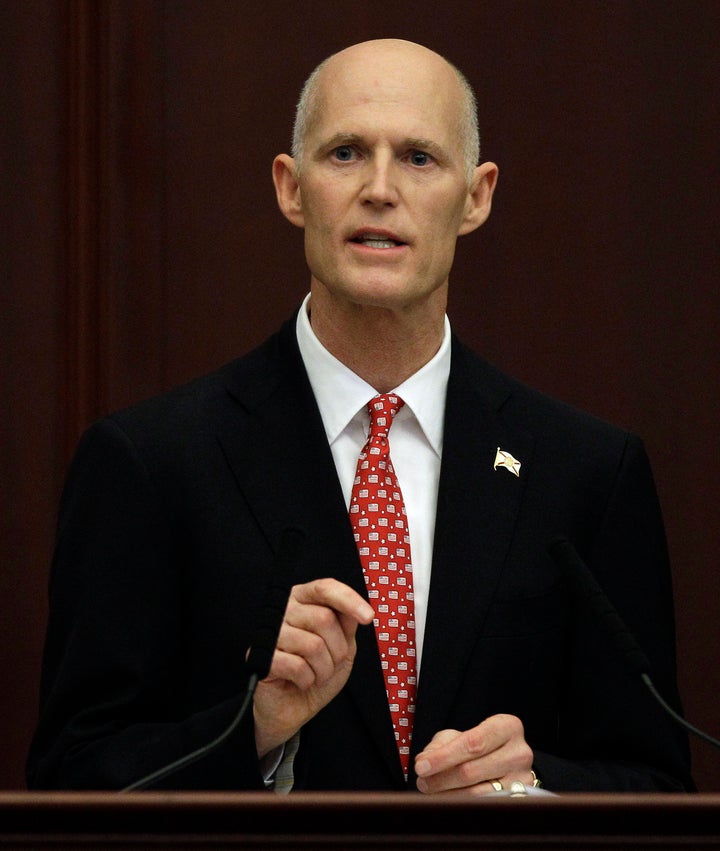 Despite the governor's campaign promise to focus on job creation, Florida Gov. Rick Scott (R) and the state's legislature have focused their attention on other matters.
In the legislative session that ended Saturday, lawmakers passed no job creation bills for Scott to sign. But they did pass five bills restricting abortion rights and a state budget that cuts nearly 4,500 public sector jobs.
The five bills, which Scott is expected to sign, force women to undergo ultrasounds prior to having an abortion, prohibit private insurance coverage of abortion care in the new state health-insurance exchange, require young women to prove to a judge that they understand the medical risks of their abortions in order to bypass parental permission requirements, establish state-sanctioned license plates that funnel money to anti-choice "crisis pregnancy centers" and begin the process of amending the state constitution to prohibit the government funding of abortion.
Florida Republicans filed a total of 18 bills to restrict abortion rights during the session -- the third most in the country, according to the ACLU, and twice the number of anti-choice laws introduced last year in the state, according to NARAL Pro-Choice America.
The focus on abortion rights has caused some lawmakers -- including some fellow Republicans -- to question how they got so far off-track.
"I came up here to help put food on the table," said state Sen. Evelyn Lynn (R-Ormond Beach) during debate on the ultrasound bill. "I came up here to get people jobs. I came up here to protect people from the kinds of safety issues that fire and police take care of. I came up here to protect education."
"I will vote no on every abortion bill," she added. "It is the wrong thing for us to be discussing."
During the session, Florida lawmakers also cut jobless benefits and Medicaid reimbursement rates, strengthened gun rights and passed nearly $4 billion in budget cuts that will effectively lay off thousands of teachers and government employees.
Progressives and conservatives alike are wondering whether Rick Scott -- whose campaign catchphrase was "Let's Get to Work" -- is going to notice that not one bill on his desk creates jobs.
"Sadly, I have yet to see a piece of legislation come before the House or Senate and go to the governor that will actually stimulate the economy and create jobs," Sen. Mike Fasano (R-New Port Richey) told the Tampa Tribune.
The unemployment rate in Florida currently hovers at 11.1 percent, notably higher than the 9 percent national average. The state also has had one of the worst foreclosure rates since the beginning of the housing crisis.
"A lot of people had expectations that lawmakers were gonna focus on those issues," said Danielle Prendergast of Florida's American Civil Liberties Union. "Instead of that, we got a lot of social wedge issues."
A spokesperson for Rick Scott told HuffPost that despite the legislature's social policy-focused agenda, creating jobs is still the governor's number one priority.
"That has not changed since the campaign," he said. "He will look at every bill to determine its impact on job creation on the state of Florida and decide if it helps create jobs or hinders job creation."
NARAL spokesperson Ted Miller said the Florida GOP's disproportionate focus on abortion this session would irritate voters during the next election cycle.
"This is an opportunity to talk about priorities and values," Miller told HuffPost. "These politicians campaign on economic issues, yet spend so much time focusing on attacking choice. They look very out of touch with where the public is right now."
Correction: An earlier version of this report misstated the effect of a bill that has passed by the Florida legislature. The bill would not change the state's constitution once signed by Gov. Rick Scott. The initial report also incorrectly stated that one of the bills would require young women to prove to a judge that their abortions are medically necessary in order to bypass parental permission requirements. In fact, they must only prove to a judge that they understand the medical risks involved.
Calling all HuffPost superfans!
Sign up for membership to become a founding member and help shape HuffPost's next chapter