Florida Gov. Rick Scott's (R) hunt for Obamacare horror stories during a visit to a senior center on Tuesday didn't go exactly as planned, as all but one resident expressed satisfaction with the new health care law.
According to the Florida Sun-Sentinel, Scott spoke with 20 seniors assembled at a conference table at the Volen Center in Boca Raton in an effort to collect negative feedback on President Barack Obama's signature health care law. Instead, Scott was greeted with overwhelming support for the Affordable Care Act, as residents reacted to Scott's claims that "Medicare is being reduced" to fund Obamacare.
"[W]e're all just sitting here taking it for granted that because we have Medicare we don't want to lose one part of it," Ruthlyn Rubin, a 66-year-old Volen Center resident, said, according to the Sun-Sentinel. "That's wrong to me. I think we have to spread it around. This is the United States of America. It's not the United States of senior citizens."
Rubin also predicted that the new health care law will gain popularity in time, pointing to the success of other social programs that were viewed with skepticism when they began.
"People were appalled at Social Security," Rubin said. "They were appalled at Medicare when it came out. I think these major changes take some people aback. But I think we have to be careful not to just rely on the fact that we're seniors and have an entitlement to certain things."
Another resident, Harvey Eisen, told Scott he was "completely satisfied" with Obamacare, questioning Scott's assertion that the 2010 health care reform law is cutting Medicare funding. Even if that is the case, Eisen argued, it would be a justified cost to pay.
"I can't expect that me as a senior citizen are going to get preferential treatment when other programs are also being cut," Eisen said.
While Obamacare does not actually cut funding from the Medicare budget -- overall Medicare spending is expected to increase -- it aims to reduce the program's future health care costs by reducing a costlier subset of Medicare plans run by private insurers, Medicare Advantage.
"I don't have any complaints," another resident said, citing her son's previous inability to secure coverage because of heart problems.
Recent polling has indicated that voters in both Democratic and Republican districts increasingly view the Affordable Care Act in a positive light.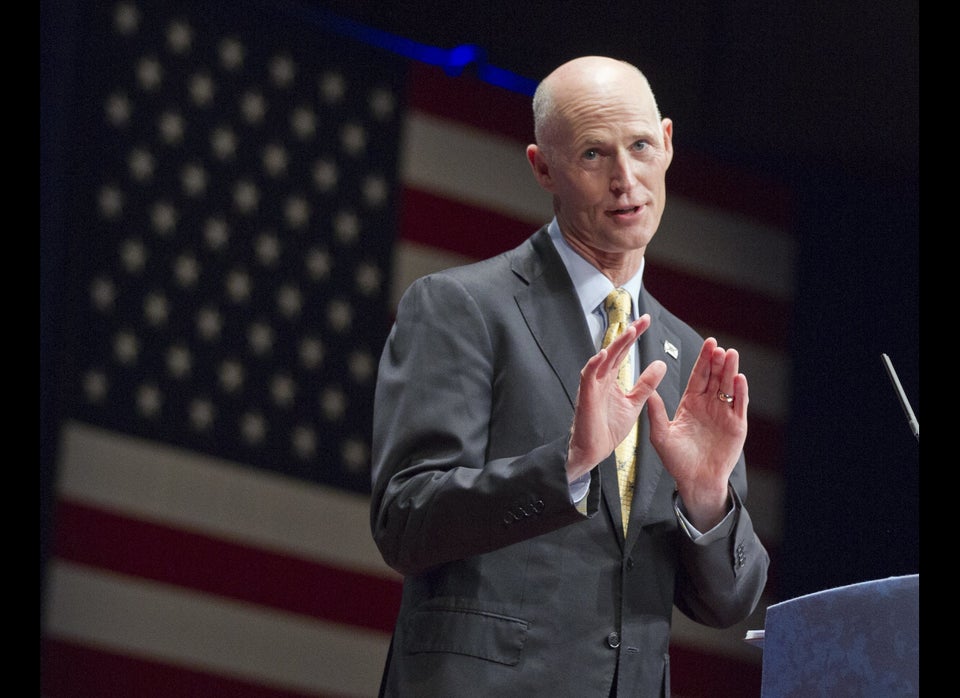 Rick Scott Controversies
Popular in the Community