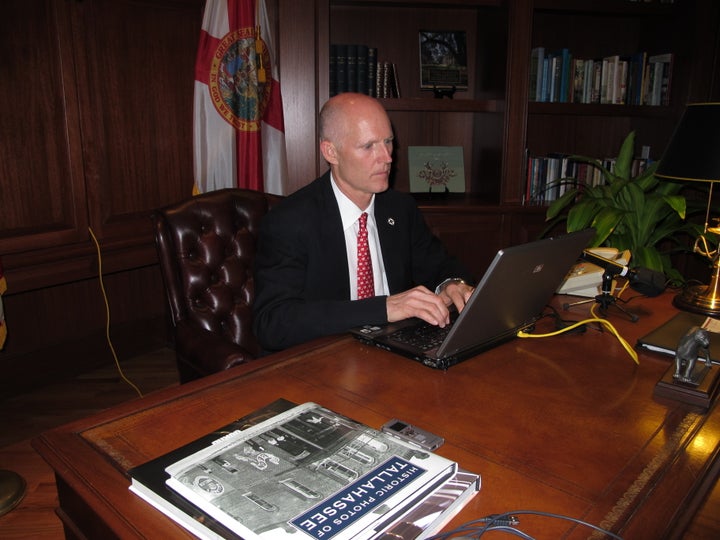 Rick Scott was already tied with John Kasich as the least popular Governor in the country in PPP's polling but now he has that designation all to himself. 59% of voters disapprove of Scott, up from 55% when PPP last polled the state in March. Only 33% think Scott's doing a good job.

Scott's numbers with Democrats are pretty much identical to where they were on the last poll. His standing with Republicans has actually improved a little bit, from 57/27 in March to now 63/30. Where he's really seeing a decline is with independents. He was already unpopular with them at a 31/54 approval spread but his numbers with them are even worse now at 27/64.
Indeed, those are distinguished numbers. And Democrats generally distinguish those numbers as the kind that makes the state of Florida ripe for the taking in 2012. But it doesn't stop at giving President Barack Obama a boost in the electoral college count. Florida Democrats have recently floated the idea of running former Florida Governor and epic-failure Senate candidate Charlie Crist as one of their own. And what may have at one time looked like a daring stunt is actually an idea that has some legs. Public Policy Polling reports:
Crist would crush Scott in a hypothetical match up, 56-34. He would win a quarter of the Republican vote and takes independents by a 62-30 margin, in addition to pretty much sweeping the Democratic vote.
Fortunately for Scott, he doesn't have to face those prospects until 2014. In the near term, though, what's to be done about his terrible poll numbers? Well, in an interview with The New York Times, Scott said, "I don't think about it." But that's obviously not true, because what he's decided to do is robocall the state of Florida in order to tell people about all of his awesome accomplishments. That'll work! People love robocalls!
Political robocalls are nothing new in the final weeks of a campaign season, but for the first time anyone can recall Scott has the state GOP paying for regular recorded calls touting his day-to-day accomplishments. It's part of his continuing effort to bypass the traditional media and communicate directly with voters.

"The benefit is we get our message out," Scott explained Tuesday, while in Washington. "It allows us to tell people what we're doing. Part of my job is let people know what I'm doing all the time."

The personal touch has its appeal. On the other hand, a lot of Floridians don't exactly relish unsolicited robocalls.
Shaun Dakin, who founded the National Political Do Not Contact Registry, tells Smith, "At least from the Twitter traffic and e-mail traffic that I'm monitoring, nobody seems to appreciate it." Apparently, the Republican Party of Florida has been "flooded with complaints." So this crackerjack plan seems to be working out terrifically.
[Would you like to follow me on Twitter? Because why not? Also, please send tips to tv@huffingtonpost.com -- learn more about our media monitoring project here.]
Popular in the Community