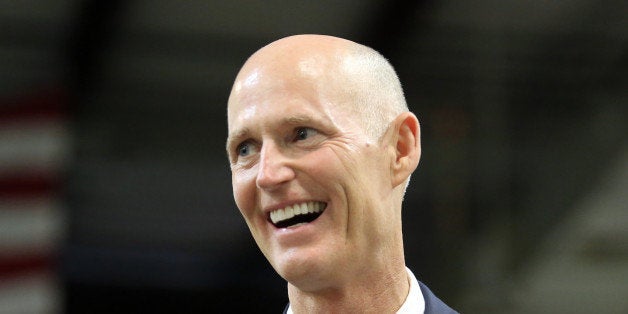 A new battle heated up Tuesday after Kentucky Gov. Steve Beshear (D) posted a letter on Facebook criticizing Florida Gov. Rick Scott's (R) attempt to lure companies from Kentucky.
Beshear's post detailed Kentucky's positive economic climate, contrary to what Scott described in a June 17 letter he mailed to Kentucky business leaders.
In the letter, the Florida governor focused on promoting his state, and described Kentucky's tax policies as "not working" and its unemployment rate as stagnant. The mailing followed a series of letters Scott sent to business leaders in other states.
Beshear called the letter "a clumsy attempt to raid our economy."
"While some people talk about economic momentum, here in Kentucky we're demonstrating it," Beshear wrote on Facebook. "Gov. Scott's clumsy attempt to raid our economy helped focus attention in national media on what actually is happening in Kentucky."
Beshear, who cited a series of job statistics and economic development in Kentucky, said he also was addressing a comment from a former New Zealand parliament member who he said described Kentucky as "stuck in the economic doldrums."
Scott said in June, when he sent the letter to Kentucky business leaders, that he sent similar letters to business leaders in California, Connecticut, Illinois, Maryland, Minnesota and New York urging them to relocate to Florida. Scott, who faces reelection next year, used the Kentucky mailing to tout his economic efforts.
"Kentucky's formula of higher taxes and more spending is not working," Scott said in a June statement. "Florida has cut over 2,500 regulations, cut taxes 25 times and paid down state debt. As a result, over the past year Kentucky's unemployment rate remained relatively stagnant while Florida's has dropped 1.7 percent."
Governors luring businesses from one state to their own is not new. In January, Kansas Gov. Sam Brownback (R) used his State of the State address to emphasize his plan to zero out the state's income tax to spur job creation and to send a message to Texas Gov. Rick Perry (R), who has promoted similar efforts. "Look out Texas, here comes Kansas," Brownback said at the time.
New Jersey Lt. Gov. Kim Guadagno (R), the state's economic development czar, described Gov. Chris Christie's (R) national political travel as a way to reach out to business leaders to bring companies to the state. Last year, she told HuffPost that Christie was able to lure Allergan, the manufacturer of Botox, to New Jersey while in California for a political speech.
In May, state legislators in Missouri and Kansas clashed over attempts to make their respective states more appealing to the gun and ammunition industries, which they said were looking for new homes after Colorado and New York passed new gun control laws. Kansas state Rep. Brett Hildabrand (R-Shawnee) told HuffPost at the time that he could even see the two states and Oklahoma forming a new gun corridor to lure the industry from other states.
REAL LIFE. REAL NEWS. REAL VOICES.
Help us tell more of the stories that matter from voices that too often remain unheard.
BEFORE YOU GO
PHOTO GALLERY
Rick Scott Controversies