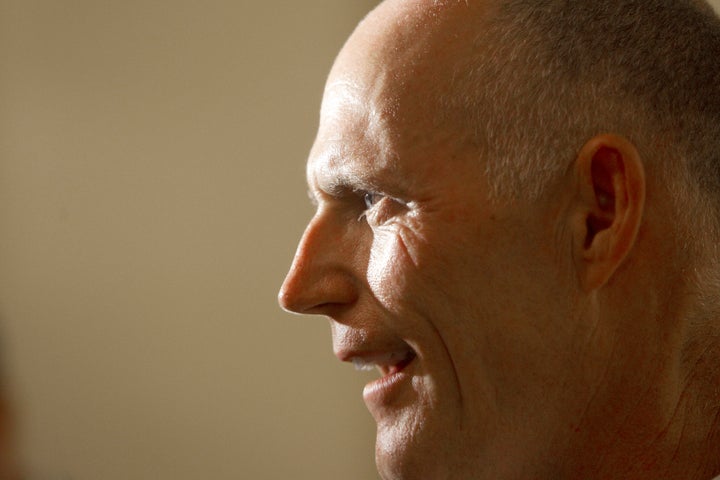 WASHINGTON -- Garrett Lamp is a lifelong Republican. As a firefighter with the Orlando Fire Department, he voted for Jeb Bush for governor and even worked on a few political campaigns. He considers himself a social conservative, especially when it comes to the issue of abortion. But on Wednesday, he will be going to the local Supervisor of Elections and changing his party identification to "Independent."
"As a public safety employee, as a fireman, as a father of three children [and] my sister has a special needs child, I'm fed up with the ridiculous cuts that are being made right and left," Lamp told The Huffington Post.
"It's almost like the Republicans are in a feeding frenzy, decimating working-class families," he added. "You can't do away with taxes for corporations and put it on the backs of middle-class working people, and that's what they're doing."
"Join me on Wednesday at 11:30 at the Viera Supervisor of Elections as I become an Independent Voter," he wrote. He insisted that no one told him to post the message, and it wasn't part of any broader campaign. Lamp said that in the past he had consistently voted for Republicans; but he never fully trusted Gov. Rick Scott (R) and voted for Democrat Alex Sink in the 2010 gubernatorial race.
Lamp's story could serve as a warning for GOP governors around the nation who are battling the labor community in the run-up to the 2012 elections.
Lamp is a member of the International Association of Firefighters union. While he said he's not particularly active and loyalty to the labor movement does not motivate his switch, he did cite a piece of anti-union legislation going through the state Senate as part of what frustrates him about Florida's Republican politicians.
That bill, sponsored by state Sen. John Thrasher (R), would prohibit state and local governments from automatically deducting union dues from employees' paychecks. Union members would also have to give written consent before their dues are used for political purposes.
"I have heard from taxpayers," Thrasher said. "They think [state] resources should not be used to facilitate private political agendas."
But as Politifact noted, "Employees automatically have money taken out of their paycheck to pay for all kinds of things. Some deductions are voluntary: student loans, charitable donations, health insurance, life insurance, union dues. Some deductions are not: taxes, alimony and other court-ordered deductions. The state of Florida currently has 364 groups or agencies that have the ability to take money directly from employees' paychecks."
Legislative analyses of the bill determined that removing automatic deduction for union dues really wouldn't save the government any money. One state House study, for example, said the measure "may result in a positive, but insignificant, fiscal impact on public employers." Another said it "may result in a neutral fiscal impact to public employers."
Neither Thrasher's office nor the Florida GOP returned a request for comment.
Florida is in a different situation than Wisconsin, where Republican Gov. Scott Walker and his GOP allies were recently able to push through a measure that stripped the collective bargaining rights of most public employees. Florida's constitution has a provision protecting state workers' rights in that area.
According to Tiffany Ricci of the American Federation of State, County and Municipal Employees (AFSCME), Thrasher's bill is expected to get voted out of committee on Wednesday and come before the state Senate for a full vote within a week or two.
"People are just disgusted with the way that Scott is only advocating for corporations and doing nothing for the people who live here and work hard," said Ricci. "And there are Republicans from all across the state who have decided to drop out of the party, because they can't stay in a party that is Rick Scott's party. From everything from the special deal for corporations to attacking unions, and there are corporations that pay no taxes -- all of this combined has just been too much for many of these lifelong Republicans to stomach."
On Tuesday, a coalition of labor and community groups launched a grassroots campaign called "Stop Scott." One of the organizers explained, "Florida Republicans, Independents and Democrats alike who are justifiably outraged with the governor's extreme anti-worker, anti-education, anti-family agenda will be provided a forum to take action to stop Rick Scott."
"First off, I campaigned on promising on getting the state back to work, starting the process to seven steps to 700,000 jobs, working on education reform," he said, adding, "I'm talking to companies all around the world about coming here, and people are very receptive about coming to Florida."
Lamp concluded, "If you're the CEO of a large company, you should help the people who helped you become the CEO of a successful company," adding that closing loopholes for CEOs shouldn't be a partisan issue. "How many millions and billions [of dollars] do people need to make, while the standard of living and the average income for the hardworking men and women who put their company in that position [is dropping] every day?"
Popular in the Community