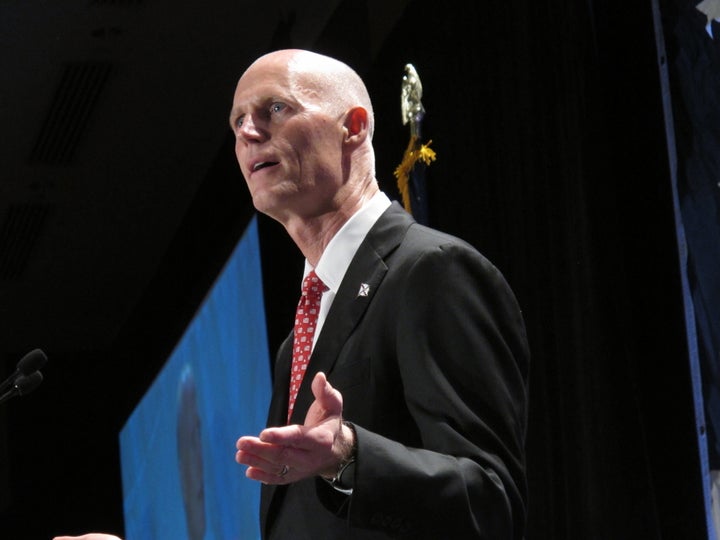 Florida Gov. Rick Scott (R) defended on Monday his administration's decision to defy a federal warning against purging a number of suspected non-citizens from state voting rolls, just hours before a state elections official advised counties to freeze the process.
"We need to have fair elections. When you vote, you want to make sure that the other individuals that are voting have a right to vote. That's what I care about. If you're a candidate, you want to make sure that the people that vote in your election are people who have a right to vote," Scott said, according to the Miami Herald. "So my focus is in making sure that our state has fair elections. People who have a right to vote [can] vote. Because I don't want to disenfranchise anybody in their voting rights."
Asked to explain the timing of his decision -- which came after the deadline to take care of election maintenance ahead of the state's August 14 primary -- Scott appeared to blame the administration of President Barack Obama for delaying a move that he had wished to carry out earlier in his term.
"We were waiting on the [U.S. Department of] Homeland Security database. So it just kept getting delayed. I'm responsible for the state, but my understanding is they just kept delaying it," Scott said. "There is no perfect time for doing any of these things. We just want fair elections.That's what all of us want. This is not a partisan issue."
As the Herald reported earlier, the Department of Homeland Security was responsible for denying Florida access to an immigration database that could have expedited the Scott administration's hunt for supposed ineligible voters.
Without that information, state officials carried out their search using dated Department of Motor Vehicle citizenship records, eventually cutting down an initial list of around 180,000 potential non-citizen voters to 2,700. Elections supervisors for some counties expressed concerns with the methods used to populate that list, claiming that it disproportionately targeted Hispanics. The Department of Justice also contended that the process violated numerous National Voting Rights Act laws that had been applied to some Florida counties in the wake of the state's troubling history of civil rights abuses.
Scott has denied that the effort is meant to target minorities.
Despite Scott's explanations, CNN reports that Ron Labasky, a lawyer for the Florida State Association of Supervisors of Elections, instructed county officials to halt the move to purge the alleged non-citizens until the Justice Department's concerns are addressed.
The Herald relays some of the statistics behind critics' concerns:
About 58% of those flagged as potential noncitizens are Hispanics, Florida's largest ethnic immigrant population, a Miami Herald analysis found. Hispanics make up 13 percent of the overall 11.3 million active registered voters.
A preliminary investigation of 1,600 potential suspects in Miami-Dade county had turned up only two non-citizens who may or may not have actually cast ballots. A total of 13 registered voters in that group have so far admitted to being non-citizens, compared to 492 who were identified as citizens, and therefore eligible voters.
According to CNN, Carolina Lopez, spokesperson for the Miami-Dade Elections Department, has since said the county would halt the purge.
Correction: A previous version of this story incorrectly identified Lopez's title.
Popular in the Community