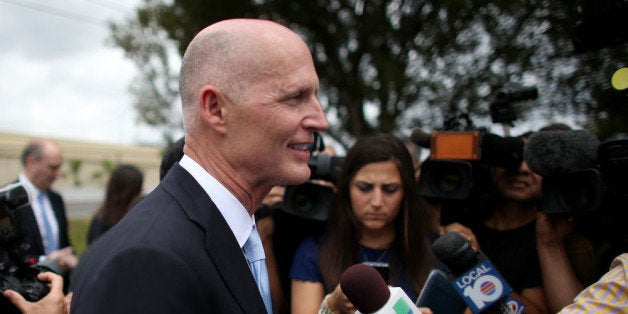 A federal appeals court ruled Tuesday that Florida Gov. Rick Scott's (R) effort to purge the state's voter rolls was illegal due to its close proximity to the 2012 elections.
The court said that the move violated a provision of the 1993 National Voter Registration Act that explicitly bars states from removing the names of ineligible voters from official lists within 90 days of a primary or general election for federal office.
Scott and Florida Secretary of State Ken Detzner (R) had launched the statewide purge just 55 days before the November 2012 elections, purportedly in order to maintain the elections' integrity.
Judge Beverly B. Martin wrote for the 11th Circuit's majority that the 1993 law was applicable to Scott's effort:
For programs that systematically remove voters, however, Congress decided to be more cautious. At most times during the election cycle, the benefits of systematic programs outweigh the costs because eligible voters who are incorrectly removed have enough time to rectify any errors. In the final days before an election, however, the calculus changes. Eligible voters removed days or weeks before Election Day will likely not be able to correct the State's errors in time to vote. This is why the 90 Day Provision strikes a careful balance: It permits systematic removal programs at any time except for the 90 days before an election because that is when the risk of disfranchising eligible voters is the greatest.
Florida's search for noncitizens began after the state's Division of Elections said that more than 180,000 registered voters could be ineligible to vote in 2012. The AP reported in September of that year that the state narrowed its list of suspected noncitizens from 182,000 to 2,600, but found only 207 to be noncitizens based on a federal database. Since the state has more than 11.4 million registered voters, the 207 noncitizens amounted to just .001 percent of the total voter roll.
Democrats lauded the court's decision, linking it to Scott's reelection bid this year.
"This is another nail in the coffin for Rick Scott's hopes of suppressing the vote in 2014," Joshua Karp, a spokesman for the Florida Democratic Party, told The Huffington Post on Wednesday.
Detzner apologized in 2013 for the purge, saying "It could have been better. It should have been better."