 WASHINGTON -- Florida Gov. Rick Scott (R) announced a new proposal Thursday to reform the state's election laws, including a plan to increase the number of early voting days and locations.
The plan will allow supervisors of elections to offer more early voting, between eight and 14 days, and increase the number of early voting locations "to help reduce wait times, long lines, and to better convenience voters." Scott also proposed reducing the length of ballots.
"Our ultimate goal must be to restore Floridians' confidence in our election system," Scott said in a statement. "We must continually push to make improvements, and I look forward to working with the Legislature on a bi-partisan bill to implement these reforms this session."
His decision led to overwhelmed polling places on Election Day, where some voters in Miami-Dade County were forced to wait in lines for up to six hours. Voting in that county did not end until around 1:30 a.m -- hours after the president had been declared the projected winner.
Scott's predecessor, Republican-turned-Democrat Charlie Crist, extended the number of early voting hours in 2008, but his effort was overturned in 2011 when Scott signed legislation passed by the Republican-controlled Legislature reducing the state's early voting from 14 days to eight. The measure also eliminated early voting on the Sunday before the election -- a day that traditionally sees high turnout.
Crist criticized Scott for refusing to extend early voting, accusing Scott of intentionally obstructing voters' access to the ballot.
Shortly after the 2012 election, Scott stood by his decision not to extend early voting, denying that long lines at the polls might have discouraged voter turnout.
"Well I'm very comfortable that the right thing happened," Scott said to reporters Nov. 8, two days after the election.
But now Scott, who is facing reelection in 2014, is distancing himself from the controversial election law he signed in 2011.
Scott currently faces low approval ratings, making him a vulnerable target in 2014. According to a Public Policy Polling survey released Wednesday, only 33 percent of voters approve of Scott's performance, while 57 percent disapprove. The poll also shows Crist -- who joined the Democratic Party in 2012 -- leading in a showdown with Scott, 53 percent to 39 percent.
UPDATE: 5:30 p.m. -- While Scott's new proposal outlines steps to expand voter access, some are encouraging the governor to do more.
"While the governor has taken a step forward, his actions are a floor and not a ceiling for the work that must be done to guarantee full access to the franchise and truly restore democracy in Florida," said Judith Browne Dianis, co-director of the Advancement Project, in a news release Thursday.
Dianis recommended the governor and legislature remove threatening penalties that hinder voter registration and establish concrete guidelines for supervisors of elections so that all voters "are able to vote without incident."
Before You Go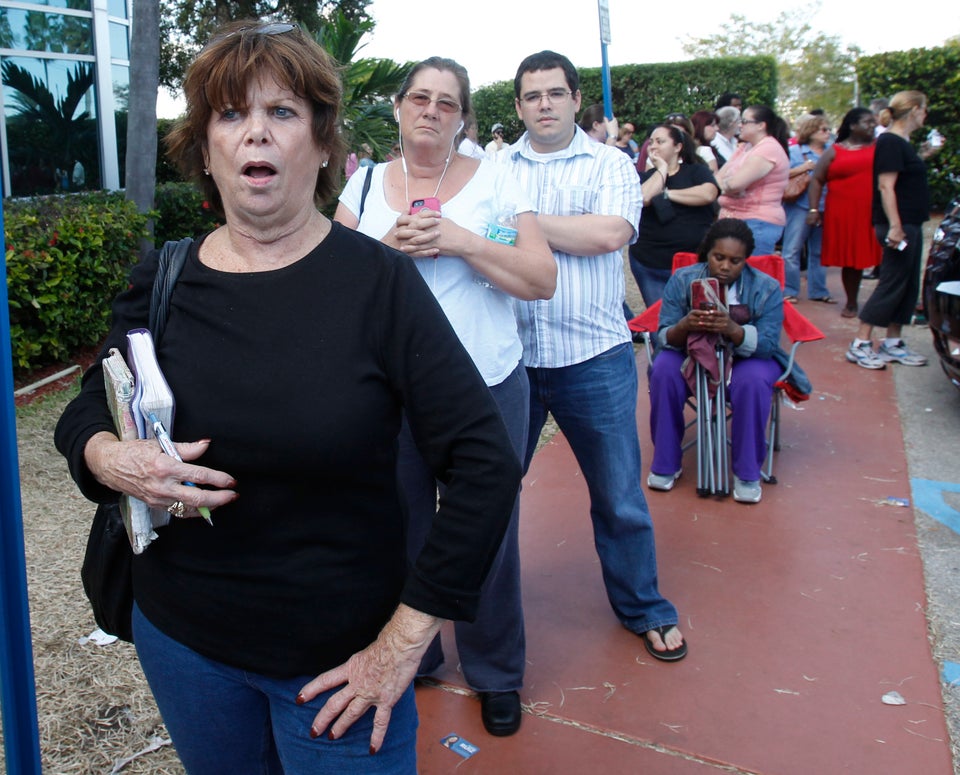 Long Voting Lines
Popular in the Community