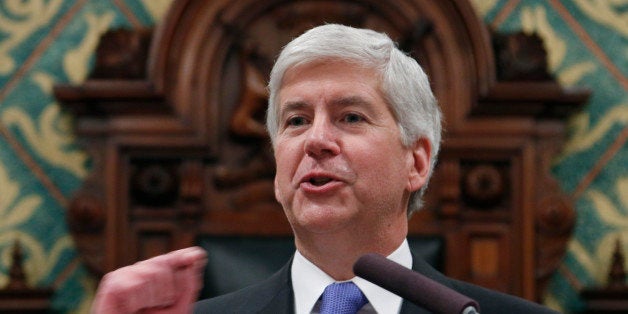 Michigan Governor Rick Snyder made a brief but pointed push for gay rights Tuesday, asking his fellow Republicans not to drop the ball on an anti-discrimination law.
During a State of the State address marking his fifth year as governor, Snyder called for legislators to continue discussions on amending Michigan's Elliott-Larsen Civil Rights Act. The law prohibits discrimination based on race, age, sex, religion and more, but does not offer protections based on sexual orientation.
"Let's keep up that dialogue and let's show that we can deal with issues of discrimination in our state," he said.
Snyder was primarily speaking to fellow Republicans who have expressed ambivalence about changing the civil rights law; Democrats and LGBT advocates have been calling for a revision since the 1980s, citing the fact that in Michigan, it's not illegal to be denied housing or fired from a job for being gay. After numerous attempts from lawmakers over the years, two bills were given an official hearing this fall.
In December, the state House Commerce Committee considered one Republican-sponsored bill that would expand the act to include protections based on sexual orientation and one -- championed by Democrats and LGBT advocacy organizations -- that would also cover transgender individuals by including protections for gender expression. Despite hopes that legislators in the lame duck session would pass one of the bills, they both died in committee without a vote.
Emily Dievendorf, executive director for LGBT advocacy group Equality Michigan, said in a statement Tuesday that the organization appreciated Snyder's call to keep the Elliott-Larsen conversation open.
"If such talks are successful, modernizing Michigan's anti-discrimination law would have a far-reaching positive impact on the Governor's entire agenda for a more prosperous Michigan," Dievendorf said. "Governor Snyder has an opportunity to show strong leadership on the advancement of this issue."
Some Democrats, however, thought Snyder hadn't gone far enough, including House Democratic Leader Tim Greimel (Auburn Hills).
"I would have liked a little bit more boldness from the governor," Greimel told the Detroit News. "I wish that he had gone before simply calling for a continuation of the discussion and had specifically asked for specific language in the ELCRA."
Instead, he's argued that gay couples who married during a brief lifting of Michigan's same-sex marriage ban do not have legal rights (an opinion made moot by a federal judge's ruling last week), and stayed silent as the state's attorney general argued in legal proceedings that the marriage ban should remain intact. And with a legislature leaning further right than last session, Snyder's comment during the State of the State address won't necessarily spur changes to the civil rights law.
Same-sex marriage, however, may become legal in Michigan. Last week, the Supreme Court announced it would hear a case from a lesbian couple challenging the constitutionality of the state's gay marriage ban. The case -- along with three others -- could potentially determine the fate of gay marriage nationwide.
REAL LIFE. REAL NEWS. REAL VOICES.
Help us tell more of the stories that matter from voices that too often remain unheard.
BEFORE YOU GO
PHOTO GALLERY
The Worst Anti-LGBT Villains Of 2014