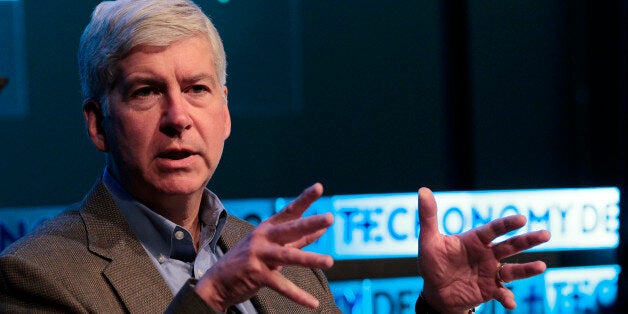 DETROIT -- The Michigan Legislature's hasty passage of a right-to-work law in December 2012 was likely the most polarizing week of Gov. Rick Snyder's (R) tenure. Given the choice, he said he'd do it again.
"Absolutely," he told The Huffington Post during an interview Friday when asked whether Michigan was better off with the new legislation.
In December 2012, the Republican-controlled House and Senate approved legislation making it unlawful to require employees to pay union dues as a condition of employment. The lightning-fast passage during a lame-duck session shocked national observers. The GOP governor, elected in 2010, previously had indicated that passing right-to-work legislation wasn't on his agenda, but in December he said he would sign any right-to-work bills that made their way to his desk.
Snyder said he warned labor union leaders in spring 2012 about the possible repercussions that could arise from Proposition 2, a 2012 ballot referendum that would have amended Michigan's constitution to guarantee both public- and private-sector employees the right to organize and collectively bargain.
'Please don't go forward with Proposition 2," Snyder said he asked. For one, he thought the amendment language awarded a "massive overreach" of power to labor unions that would be "devastating to Michigan's economy." But he also cautioned them that Prop 2 could galvanize union opponents: "If you do this and you don't succeed, you've essentially triggered the right-to-work discussion."
You're the ones who are creating the environment, then, that all the horses are going to be out of the gate. I didn't use those words, exactly. I said, 'you're going to create the momentum for them [Republicans] to say, what's the counter-response that will be taking place to right-to-work?' I said, 'you don't want to see that happen, and I don't want to see that happen, either.'
Still, Snyder admits he had no qualms signing the legislation once it was passed by the Legislature.
"I wasn't pushing it, but as a practical matter, I was very clear on the matter that, if it's there, it's a good thing to do."
He said a secondary priority after "protecting the rights of hardworking Michiganders" was making the state more attractive to companies who could bring jobs to Michigan.
"We're no longer being screened out," he told The Huffington Post.
Job creation and economic turnaround is the keystone of Snyder's reelection campaign. At last Sunday's Super Bowl, he aired a new campaign ad claiming Michigan gained 220,000 private sector jobs under his watch. A Michigan Truth Squad report adds some context to those numbers: The state still ranks 47th in unemployment nationwide, although it's dropped considerably from a high of 14.2 percent in August 2009 before Snyder took office in 2011.
"I think he's fairly busy right now," Snyder said.
CORRECTION: An earlier version of this story stated that Michigan Gov. Rick Snyder took office in 2010. He took office in 2011.
Before You Go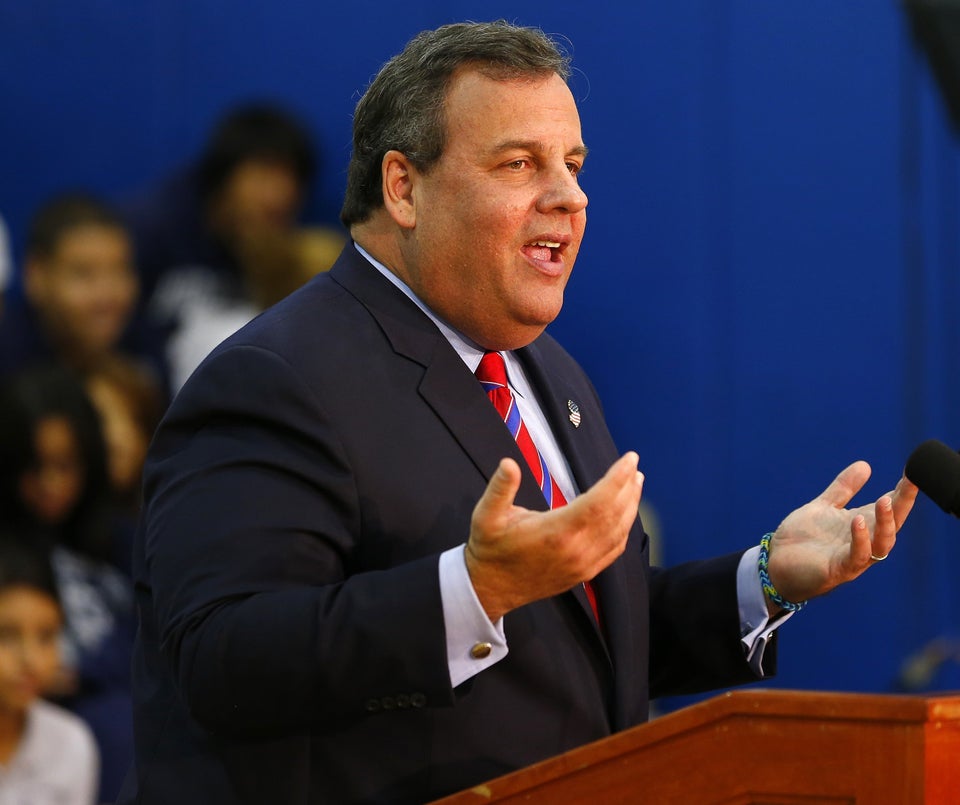 Chris Christie Is Absolutely Shocked
Popular in the Community