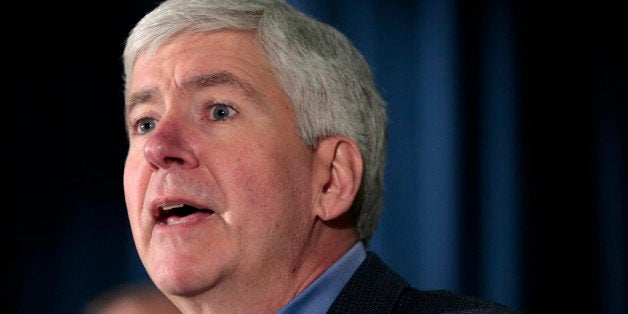 Michigan Gov. Rick Snyder (R) bucked the National Rifle Association on Thursday and vetoed a concealed carry gun bill that would have allowed some people with restraining orders issued against them for domestic violence to carry a concealed pistol.
"We simply can't and won't take the chance of exposing domestic abuse victims to additional violence or intimidation," Snyder said. "There are certainly some reforms that can improve the way Michigan issues concealed pistol licenses and we support the rights of law-abiding firearm owners, but it's crucial that we leave in place protections for people who already have endured challenges and abuse."
The bill would have revised current Michigan law to state that if an individual with a temporary personal protective order issued against him for domestic violence is not explicitly prohibited by a judge from having a gun, that person can legally obtain a concealed pistol license. Current law states that anyone with a PPO issued against him for domestic violence or stalking is prohibited from carrying a gun concealed.
Former Rep. Gabby Giffords (D-Ariz.), who survived a gunshot to the head in 2011, wrote a letter to Snyder this week urging him to veto the bill.
"Domestic violence and access to firearms are a lethal combination, and this policy undermines the safety of American women," Giffords wrote.
After the governor's veto, Giffords issued a statement that said: "I thank Governor Snyder for doing the responsible thing, standing up for common sense, and vetoing this misguided legislation that would have made Michigan families less safe. This bill would have made it easier for domestic abusers and stalkers to get their hands on guns."
One domestic violence survivor in Michigan whom The Huffington Post interviewed in September circulated a petition asking Snyder to veto the bill. Nicole Beverly, 41, said she had to fight for her abuser's guns to be removed from him even after he was issued a personal protection order. "As our Governor we are trusting you to work towards protecting victims of domestic violence and stalking, not to arm abusers with restraining orders," she wrote.
The National Rifle Association had tried to neutralize the opposition to the bill that was related to domestic violence and pressure Snyder to sign it.
"Over the past two weeks, numerous media outlets and anti-gun organizations have attacked SB 789 based on a false assertion that the bill requires concealed pistol licenses to be issued to persons subject to personal protection orders for domestic violence or stalking," the gun lobby wrote to supporters. "This statement and belief, whether genuine or manufactured, grossly misrepresents the contents of the bill and current Michigan law regarding personal protection orders."
The NRA went on to argue that the bill does not grant concealed carry permits to an individual who "is a domestic-abuser and has been charged or convicted as such," which is true -- the bill would have applied only to certain accused domestic abusers with temporary restraining orders issued against them.
This post has been updated to include a statement from Giffords after the veto.
Before You Go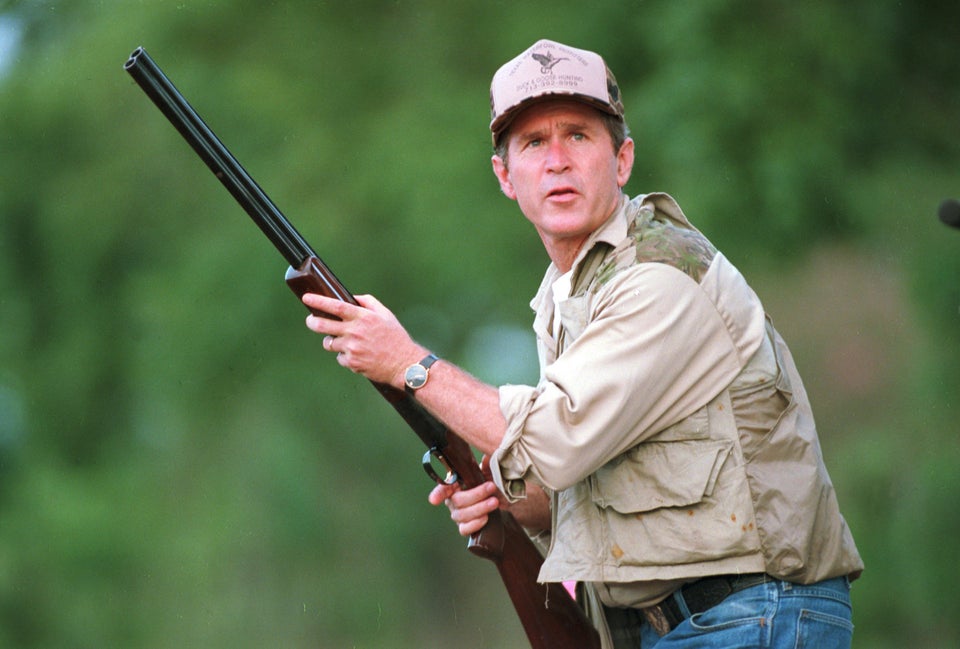 Politicians Holding Guns
Popular in the Community