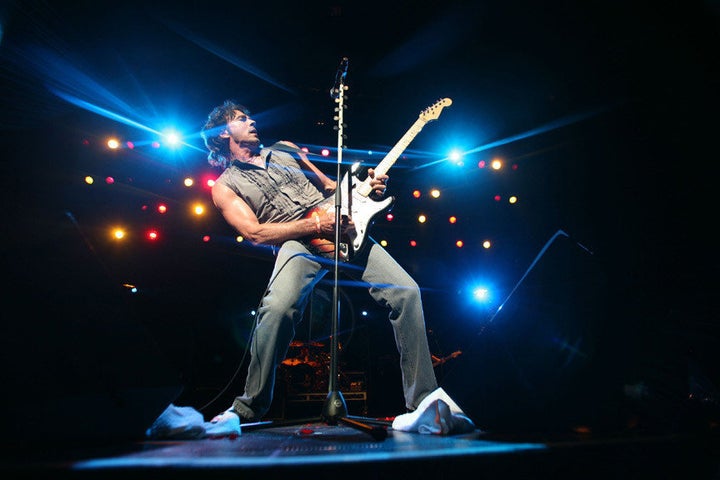 Viewers might expect to see two 40-plus year old stay-at-home-moms from New Jersey, enjoying "Mom's Night Out", reliving their youth and swooning as 60-plus year old Springfield croons on stage. Though they at first seem cliché, Caminer unfolds JoAnn Camporeale's and Sue DeVita's stories in surprising ways, showing their joy as well as the impact their fandom has on their own families.
However, Caminer takes viewers backstage with unlikely personalities they don't expect: 55 year old minister Kate Dennis of North Carolina; a 40-something couple, Chicagoans Jill and Steve Antipas, who found each other through Springfield's music; and 15 year old guitar rocker Dustin Walker from rural Illinois. While their "Rick stories" are all unexpectedly deep and inspiring, the most powerful fan story portrayed on film is that of Laurie Bennett, a 43 year old perky and sincere Southern California redhead, who credits Springfield's music and her devotion to him with rehabilitating her through the most difficult time of her life.
The film is a labor of love for Executive Producer Melanie Lentz-Janney, herself a 30 year fan, who conceived the project and convinced Caminer to get on board. When they approached Springfield, he agreed to participate in the film.
"I actually was really blown away when I saw it," Springfield says.
"I thought they would film a couple of shows and film a couple of fans saying, 'I have liked him since I was a kid.' . . . I have never seen a music documentary like that. It was a real laugh/cry kind of thing. As a person, I am kind of peripheral. It is about their connection, what they view and how they interpreted who I was, and the right times that music that they liked came along to help them to get through difficult stuff. And I definitely get that because I was a real loner of a kid in high school. . . .The only thing that gave me comfort was songs, artists that I love." He adds, "I get the stories. I am very proud to be part of it, but it is more their power than mine."
Caminer skillfully weaves together fan stories with Springfield interviews and biography, live concert appearances, and the fans' journeys to the annual Rick and Friends Concert Cruise. Springfield, now 62 will host his final cruise November 5-10. "I love the whole club feel of doing something like that. It is a very, very different thing--certainly a unique fan experience, nothing like it. No concert anyone does even comes close. You are on a boat with these people for five days, and they get to see you morning, noon, and night. So, the real you has got to be front and center."
While An Affair of the Heart exposes the difficult and personal stories of his fans, it addresses tough times for Springfield too--depression, a teen suicide attempt, marital infidelities. Yet, the film's significance lies in its portrayal of resilience, not only for the onetime teen idol and those who worshiped him, but also his decades-long marriage, his song-writing, and the enduring spirit of a talented artist who still performs 100 concerts per year.
"I don't think people will expect that message of 'resilience' to come from a Rick Springfield documentary", says producer Lentz-Janney. "It's real life . . . . we think it will be very surprising for people to see that a pop icon from the 80's who suffers from clinical depression has made and continues to make such a positive impact on the lives of many, many people. He makes a lot of people happy . . . what a gift." She continues: "We hope people will walk out of our film . . . and do some soul-searching to discover their own Rick Springfield, their 'happy place' from years gone by that is still alive within them."
Springfield says a highlight of the upcoming final cruise for him will be bringing his Australian band, Zoot back together after 40 years. "The last time I saw these guys, we are all 21. We look pretty good actually. All of us have our hair, and we are all in shape," he says.
On aging, Springfield says "Once I passed 40, age didn't matter anymore. I certainly didn't think I would be here like this at 62. When I was a kid I thought 62 meant you are done."
Although the reunion cruise will be the final one, Springfield doesn't plan to retire from doing what he loves. "There is a ton that I still want to do," he says. "I am very driven, and it is very hard for me to lie still on a beach actually."
While Caminer is completing her final cut of An Affair of the Heart for festivals and distribution, Springfield plans to "Continue and work better on my writing and performing. All the things I do, just take them further . . . I think we just scratch the surface of all our possibilities. I know there is more, and I want to pursue that."
"I feel very vibrant and alive and full of hope and promise."

Popular in the Community