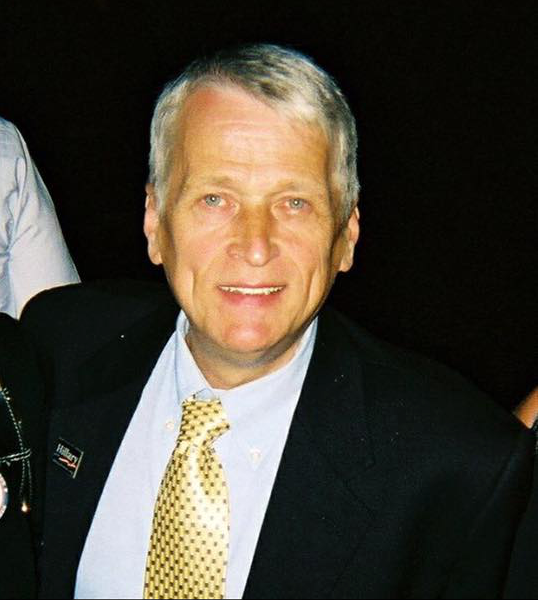 On September 2, 2017 LGBT Americans lost a great advocate and a fearless pioneer for inclusion and empowerment within the political establishment and infrastructure. Transgender Americans can thank him for his leadership as DNC LGBT Caucus Chair and for bringing transgender inclusion within the Democratic Party Charter, By-laws and Rules.
In 1976, he was elected a member of the Minnesota Democratic-Famer-Labor (DFL) Executive Committee, where he served for 17 years in many positions, including precinct caucus organizer, county and Senate district chair, congressional district vice chairman, and state party secretary.
In 1993 he was elected the Chair of the Minnesota DFL Party becoming the first openly LGBT chair of any major state political party in the nation.
He served on the Presidential Advisory Council on HIV/AIDS, and in various LGBT political groups including on the Board of National Stonewall Democrats.
DNC member Terje Anderson noted, "He was also incredibly fun to be around - delightfully profane, caustically funny, full of great insights, and always the person to hang out with after the meeting if you wanted to know what was really going on." Anderson continues. "I have lots of great memories of Rick, of how generous he was in sharing his knowledge, of how enjoyable it was to argue arcane political points with him, of watching him maneuver through the complexities of party politics and make allies and friends you never would have thought possible."
Anderson recounted – "shortly after President Clinton was inaugurated, the small number of openly gay DNC members (about 6 of us) met with a White House political operative to talk about the upcoming agenda. When the operative bragged that Clinton would soon be lifting the ban on gays in the military, Rick led the way in pressing them on what political strategy was being put in place to build support (in Congress, among the military brass, and in public opinion) ... and grew increasingly frustrated when it became clear they were completely unprepared for the political fight that was ahead.As we left the meeting, Rick immediately raced outside for a cigarette and let loose with an obscenity-laced tirade that 'those f****rs are going to blow this, they are completely unprepared, and we're all going to be f****d over for years when we lose it.' That was the kind of directness, the kind of strategic clarity, the kind of political common sense and insight that Rick brought to every battle he fought."
Rick did intersectionality before it was a word. Stephen Driscoll, former Co-Chair of National Stonewall Democrats noted that "Under Rick's leadership, we not only increased LGBT representation in party politics, but we built diverse LGBT coalitions in a way which also increased the participation of women, disabled Americans, and other underrepresented communities as well. I'm not sure if I ever heard Rick use the term 'intersectional' but I saw its application in his leadership and his work all the time. " The NSD 'Pride in the Party' program ultimately increased LGBT representation in Democratic National Conventions by 239%. Driscoll observed that many of the advocates we recruited to run as delegates then "are the LGBT elected officials and community leaders of today. That's the sort of vision that Rick Stafford had."Most importantly, Rick understood diversity as not 'a nice thing to do' but as crucial to the health of public policy and of electoral success. He strategically knew that increasing LGBT representation placed pressure on party platforms and politicians, thus creating the environments necessary to pass legislation years later. "When we first began our efforts, state parties were scared of us. Ten years later, they saw us as invaluable."
Many of us who knew him would describe Rick as was charmingly abrasive (as abrasive as a Minnesotan could be) and wonderfully welcoming and warm. He was a civil rights legend. A quick wit. He was a reason why you have marriage equality, and why we all have Barack Obama. He was so much more.
Jon Winkleman, another NSD board member wrote that "Another huge part of Rick Stafford's DNC leadership was that he was open about his HIV positive status and his health struggles with other DNC members. When National Stonewall Democrats' DNC Relations Committee attended DNC meetings and we schmoozed members at events to talk up Pride in the Party and NSD, a few straight DNC old timers brought up Stafford and said he was a 'tough old bird' and mentioned a few times it looked like he was going to succumb to HIV disease. … Rick was probably the first person with HIV that many DNC members knew and that made the issue personal for many Democratic insiders. Rick may have been the most fearless gay man to have ever served in the DNC."
2004 was a year of national political awakening for me. I rejoiced in the hope, joy, empowerment and promise of being part of the very first organized delegation of transgender people to a national political Convention (Jane Fee, a friend of Rick's was the first DNC delegate in 2000). I also experienced the frustration and disappointment of transgender delegates being ignored by the then Gay and Lesbian leadership of the DNC and the Kerry campaign. Unlike our gay and lesbian brothers and sisters, we were unable to add an employment non-discrimination statement to the DNC Party Platform.
I met Rick Stafford in the summer of 2005 when I joined the Board of National Stonewall Democrats (NSD). Both Rick and Ray Buckley, New Hampshire State Chair, were DNC members on the NSD Board and had a wealth of knowledge and experience and mutual respect. In 2004 Rick became a member of the Democratic National Committee (DNC) and in 2005 he was elected Chair of the DNC Gay and Lesbian Caucus. He became a mentor and a friend and was encouraging when I joined NSD's newly formed DNC Relations Committee. I "got it" right away that by "showing up", meeting people one on one, networking in groups you can change hearts, minds, institutional cultures! His leadership enabled us.
The first DNC meeting that our Committee attended was the meeting in New Orleans in the spring of 2006 about 6 months after Katrina. Although our 2004 Convention caucus was formally called the GLBT Caucus (the T was silent), I was taken aback to see the sign outside of the Caucus room that stated, "Gay and Lesbian Caucus". Prior to the meeting there was discussion of securing the inclusion of LGBT people in Rule 7 of the Delegate Selection Rules for the Democratic National Convention, but when the Caucus member who was on the Rules Committee articulated the language as "Gay and Lesbian", I had to speak up.Even though I was only a visitor and observer, Rick gave me the opportunity to speak to the Caucus and was openly supportive!
The bottom line is that under his leadership as Caucus chair the final delegate rule was changed to be an inclusive "LGBT" for the 2008 Convention and the 2008 platform was transgender inclusive. In recognition For his leadership and support of transgender inclusion within the DNC, the Transgender delegates presented him with their Jane Fee Award at the 2008 Denver Convention. (Jane Fee was the very first TG DNC Convention delegate in 2000, a fellow Minnesotan and a friend of Rick)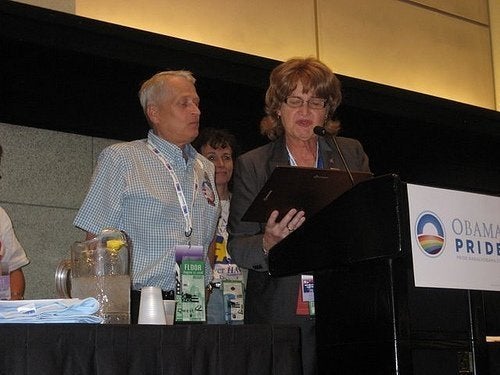 By 2009, the Charter and By-Laws were amended adding "Gender Identity" and the "Gay and Lesbian Caucus was formally changed to the "LGBT Americans Caucus". By 2016 we had 28 Delegates, a Convention Official and a Convention Speaker!
Under Rick's leadership by adding transgender people into the infrastructure and culture of the Democratic party, it enabled all the great things that the Obama Administration did to include throughout the Government infrastructure and American culture, much of which is now under attack by Trump, Pence and Sessions and their empowered transphobic and homophobic ideologues.
Thank you, Rick! We are better able to fight and fight back! Rest in Power!