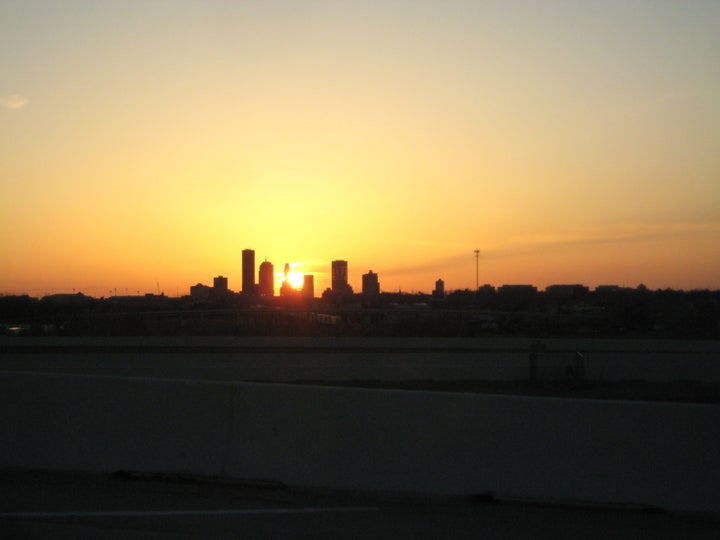 I love the way the big cities of the Great Plains, from Edmonton and Calgary in the north to Oklahoma City here in the south, erupt with shiny skyscrapers out of the flatlands. In Oklahoma City, the Devon Energy Center sticks up like a stiletto, dwarfing other buildings on its skyline.
Oil, which makes the local economy somewhat recession-proof, is clearly a big deal in Oklahoma. It's the only place I've been where oil rigs pump alongside the airport runways. They even have oil rigs on the state capitol grounds.
American Indian culture is also an important part of Oklahoma's cultural makeup. This was the place where tribes from across the region were resettled after walking the "Trail of Tears." Oklahoma license plates, which call the state "Native America," feature an Indian archer and 9% of the population is Native American. Casinos are big and the city will soon open the American Indian Cultural Center and Museum, which will be the top facility of its kind in the country. High atop the state capitol dome stands a stirring statue of an Indian aptly named "The Guardian."
But move over, Indians. In 1889, Oklahoma was the home of the great land run. With the firing of a gun, white settlers raced in from Arkansas to grab up free land: Stake it, live it, work it...and it's yours. Some land-hungry ones cheated and left sooner than the gun went off. They were called "sooners." This beautiful state -- so full of friendly people -- is the only place I can think of where the university mascot is named for cheaters: The University of Oklahoma Sooners. To this day, some of those settlers' families -- sooners and laters -- still live on those original homesteads.
Oklahoma City is a heartwarmingly proud city. People just seem really good here. And they come together impressively to make their city better. In the 1990s and early 2000s, MAPS (the Metropolitan Area Projects) rejuvenated the riverbank and the old industrial Bricktown. A charming canal, complete with riverboat tours, winds through a park-like green belt, gracing the city with a dimension never before enjoyed.
After Katrina hit, the New Orleans Hornets made Oklahoma City their temporary home for a couple of years. They were supported so enthusiastically that it was clear the city was ready for a pro basketball team. So they took my city's Supersonics...and it's been a huge success. Now the "Oklahoma City Thunder," my former Sonics constantly sell out games.
An essential stop in Oklahoma City is the moving memorial at the site of the 1995 bombing of the Murrah Federal Building. With its reflecting pond, thought-provoking field of 168 empty chairs (one for each victim), and a fence still fluttering with cards, ribbons, and photos of remembrance, the Oklahoma City National Memorial -- with its rangers always there to tell the story of the horrible event -- is very well done.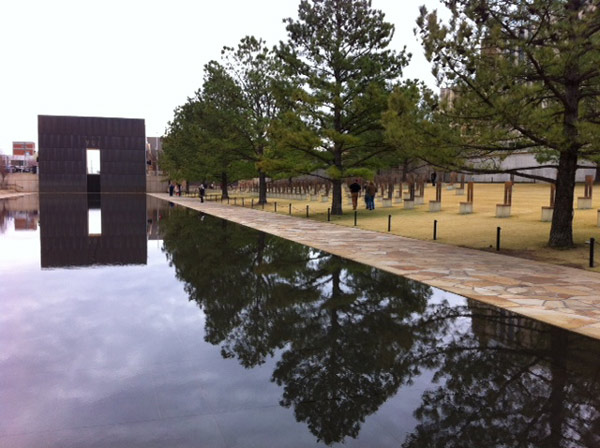 The memorial at the site of the bombed-out Murrah Federal Building is a powerful stop in Oklahoma City.
I spent my evening at Oklahoma Christian University, a delightful little campus with 2,200 students (each given a MacBook Air upon arrival, included in their tuition). The school has a passion for foreign study -- both sending their students abroad and hosting students from around the world. They have a special relationship with Rwanda, and my hunch is that an entire generation of future Rwandan leaders will be Oklahoma Christian University alums. While buildings on campus are named for benefactors with little concern for double-entendres (Fails Hall dormitory, Payne Athletic Center, and Mabee Learning Center), I was impressed by the caliber of the student body, the teachers, and the community leaders who all work to make their school excel.
Oklahoma's lieutenant governor, an avid traveler and a fan of my TV shows and guidebooks, made a point to come to the VIP dinner before my talk. It was a delightful gathering. Joining 30 couples who seemed to have everything right made me forget for a moment that the world is not so tidy. One sweet lady asked me, "What's the topic of your talk tonight?" I said, "How travel broadens your perspective." She responded, "It certainly broadens your fanny."
After dinner, I was rushed around back of the auditorium and heard thunderous applause. I had missed my introduction by ten seconds and needed to step immediately onto the stage to face 1,200 people packing the hall.
After a bit of a rocky start, I spent the next two hours respectfully challenging this mostly Christian crowd of Oklahomans to let travel complicate, carbonate, and broaden their worldviews. I talked about how, to me, "sanctity of life" is more than a fetus. I outlined how we could deal with structural poverty abroad by exercising soft power -- both doing Jesus' will and making our country safer at the same time. And I got to confront the issue that while God may bless the U.S., it's hard to understand how the 4% of humanity who are Americans can be "exceptional" in God's eyes when God loves all his children -- not even the poor and unwashed, but especially the poor and unwashed. Although the organizers of the talk had prepared me to be careful with the politics here, university leaders thanked me afterwards for bringing these challenging ideas to their student body. It was a thrill.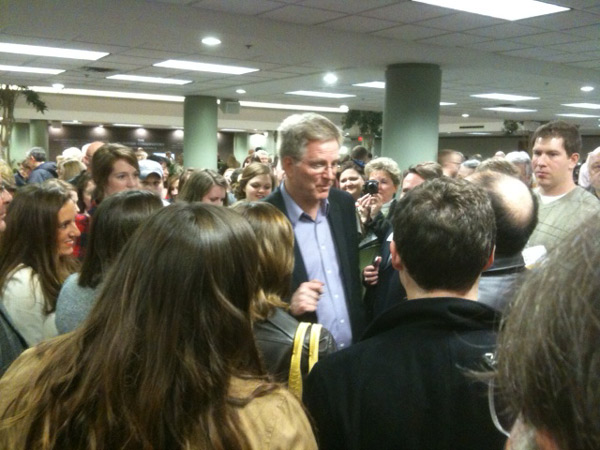 Enjoying an enthusiastic crowd at Oklahoma Christian University after my Travel as a Political Act talk.
I finished the evening (after most people's bedtimes) with an extended Q&A session with the honors students and foreign study students in a smaller hall. That night, while cruising through the channels back at the hotel, I stumbled onto the new HBO Sarah Palin movie, Game Change, and couldn't stop watching it. This capped a fascinating evening.
Rushing down breakfast in the hotel lobby with Keith the next morning, we were both bleary-eyed. It turns out he had also stayed up until 1:00 a.m. watching the same movie. We hit the road at 9:00 and drove the most boring stretch of the trip so far -- Oklahoma City to Kansas City via Wichita. Wichita was quite desolate on a Sunday morning. The city may have a strong faith, but, according to my Starbucks app, Wichitans don't seem to revere St. Arbuck. So, in a driving rainstorm, we pushed on to Kansas City.