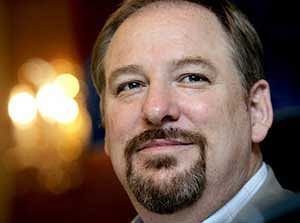 "President-elect Obama has again demonstrated his genuine commitment to bringing all Americans of goodwill together in search of common ground...I applaud his desire to be the president of every citizen."
Obama announced Warren's role in the Inauguration in December of last year, and there has since been relentless criticism from various gay-rights groups and others, due to the conservative pastor's anti-gay actions and statements.
Indeed, just this month David Brody of the Christian Broadcast Network dredged up a skeleton Warren perhaps missed: a video from the Saddleback "News and Views" video site wherein Warren describes same-sex marriage as a "humanitarian crisis".
Notably, his detractors include his fellow inaugural participant, Pastor Robinson. As Robinson told Beliefnet:
" He's done some good things. The difficult thing is that he's said, and continues to affirm, some horrendous things about homosexuality -- comparing it to incest, bestiality, that kind of thing. This is not a choice that really represents everyone. This choice was just really, really unfortunate.

...

It's about this particular venue and the role that he has in praying for all of America, and I'm just not sure he'd pray to God the same way I would."
Warren, presumably playing it safe, is no longer accepting interview requests, as reported by the New York Times Thursday. However, in his Beliefnet interview, Robinson expressed a desire to sit down with Warren and engage him on issues, making Warren's statement a likely welcome overture.
Popular in the Community