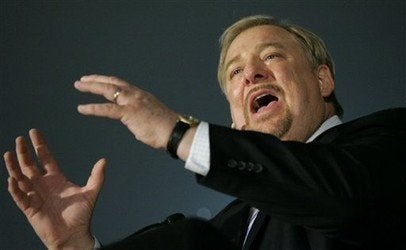 UPDATE: On MSNBC's "Rachel Maddow Show" Monday night, The Family author Jeff Sharlet tied efforts to make homosexuality a capital crime in Uganda to a Christian organization belonged to many members of Congress. Both the president of Uganda and the legislator who introduced the bill are members of the secretive group.
Meanwhile, on his Twitter page, Warren seemed to question the fuss. "Globally last yr 146,000 Christians were put to death because of their faith. No one, except Christians, said anything," he wrote.
Newsweek tried to get Warren's reaction to the anti-gay work of Martin Ssempa, a Ugandan pastor who has come to his Saddleback Church multiple times. (Warren has distanced himself from Ssempa in general terms, saying the Ugandan minister does not represent him or his church.) Warren wouldn't reject the idea:
But Warren won't go so far as to condemn the legislation itself. A request for a broader reaction to the proposed Ugandan anti-homosexual laws generated this response: "The fundamental dignity of every person, our right to be free, and the freedom to make moral choices are gifts endowed by God, our creator. However, it is not my personal calling as a pastor in America to comment or interfere in the political process of other nations." On Meet the Press this morning, he reiterated this neutral stance in a different context: "As a pastor, my job is to encourage, to support. I never take sides." Warren did say he believed that abortion was "a holocaust." He knows as well as anyone that in a case of great wrong, taking sides is an important thing to do.
Popular in the Community