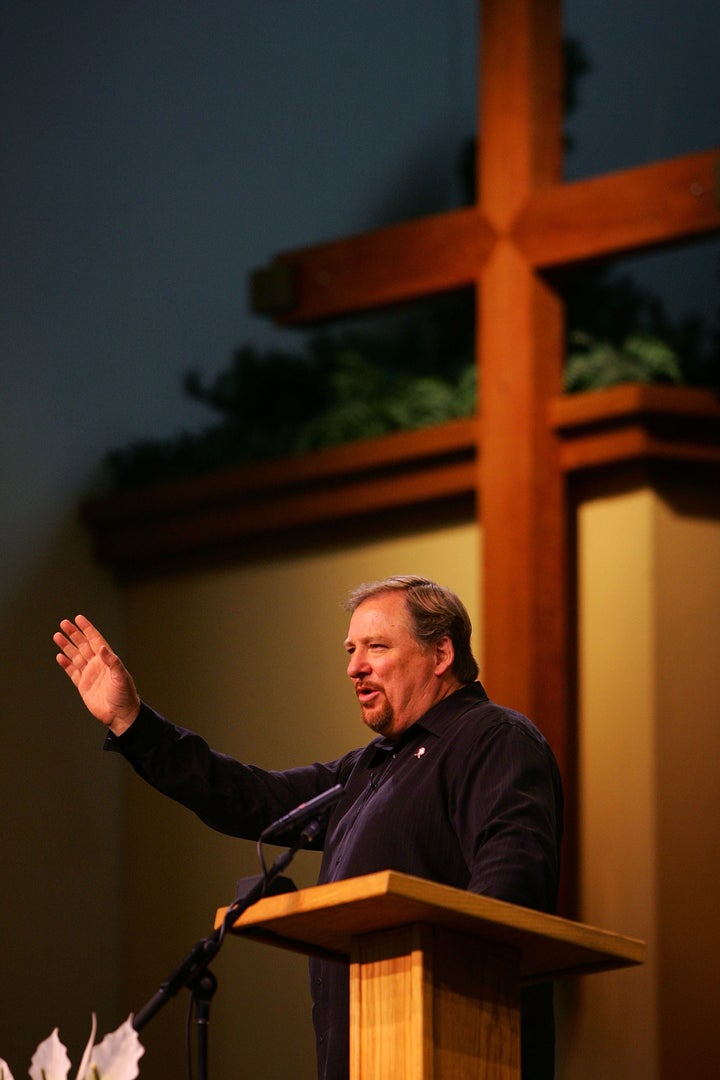 Southern California megachurch pastor Rick Warren tweeted, then deleted, a jab at those who want to increase the debt ceiling, reports Newport Beach Patch.
"HALF of America pays NO taxes. Zero. So they're happy for tax rates to be raised on the other half that DOES pay taxes," Warren tweeted yesterday, presumably in response to President Obama's Monday speech on the debt ceiling.
He later deleted the tweet after the outcry on Wonkette and Politico, and seemed to apologize for the comment to twitter user @karoli with this tweet: "@Karoli You are 100% right! It did sound mean."
Of course, it isn't true that poorer Americans pay "zero" taxes. While 47% of the population owed no income tax for 2009, these Americans still do pay payroll, sales, state, and local taxes. Many lower income families' tax burdens are reduced because of the Earned Income Tax Credit, a benefit awarded to people in lower tax brackets.
Obama's speech on the debt ceiling called into question the Republican Party's insistence that a new deal simply cut spending, not increase revenue through new taxes. The President framed the plan as a choice to ask lower income or fixed income Americans to sacrifice before corporations and wealthier taxpayers do. From the transcript, via the Washington Examiner:
Most Americans, regardless of political party, don't understand how we can ask a senior citizen to pay more for her Medicare before we ask corporate jet owners and oil companies to give up tax breaks that other companies don't get. How can we ask a student to pay more for college before we ask hedge fund managers to stop paying taxes at a lower rate than their secretaries? How can we slash funding for education and clean energy before we ask people like me to give up tax breaks we don't need and didn't ask for?
Warren is pastor of the Saddleback megachurch in Orange County, California. He is the author of the best-selling book series "Purpose Driven Life," and his ministries include domestic and international charity for the poor. He is also known for his reverse tithing -- living on 10% of his income while giving away 90%. In 2008, President Obama chose him to deliver the prayer at his inauguration ceremony, which sparked controversy because of Warren's opinions on gay marriage.