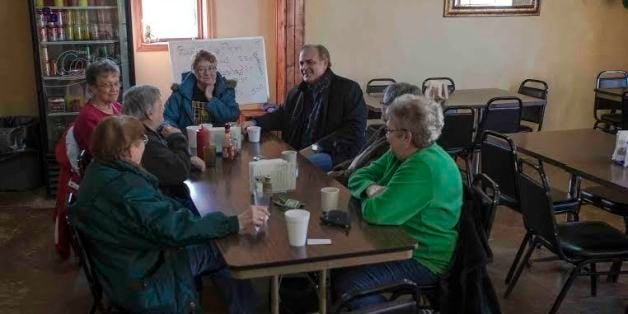 Rick Weiland knew that running for U.S. Senate in South Dakota without the national Democratic Party's help would require drastic measures. On Thursday, he visited his 300th town in a tour that celebrates retail politics in the 46th most populous U.S. state.
Pine Ridge, a town of 3,300 on South Dakota's southern border, was where Weiland reached his milestone. While there, he was hosted by veterans of the Oglala Sioux Tribe and took part in a community feed and a town hall meeting. Weiland said he hoped intimate gatherings like these will persuade South Dakotans that a Democrat deserves to succeed retiring Sen. Tim Johnson (D).
Weiland still has 11 incorporated towns to visit before he can say he's been to every single one in the state. But he's doing so without the backing of the Democratic Senatorial Campaign Committee. In a midterm election year when Republicans have expanded the battleground map beyond obvious races with vulnerable incumbents, it appears the DSCC is hesitant to expend resources in a state with a strong Republican bent.
Yet Weiland's anything but discouraged, betting that his labor-intensive strategy of shaking hands and chatting with every possible voter will pay dividends in November.
"That's how Democrats do it out here," Weiland told The Huffington Post in an interview earlier this week as he set out on another swing across the state. "We've had a pretty successful track record with sending Democrats to Washington. If you can get beyond the party labels and get to what's on people's minds, they don't default to their party. That's retail politics and that works in a state like South Dakota."
The state's population is so small that Weiland has run into the mother-in-law of former South Dakota Gov. Mike Rounds (R), who is considered a leading candidate for the Senate Republican nomination. He also inadvertently made a campaign pitch to the husband of Rep. Kristi Noem (R-S.D.), who "fessed up" after Weiland gave his spiel.
"There's probably less than 400,000 people who are going to vote," Weiland said. "I've come off the campaign trail, my hand is sore, swollen, from shaking so many hands. I could probably shake everybody's hand."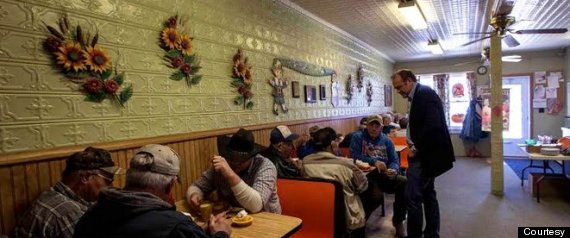 Weiland served as an aide to former Sen. Tom Daschle (D-S.D.), whose door-to-door strategy in 1978 for one of the state's two House seats serves as an inspiration for his campaign. Former President Bill Clinton appointed Weiland as a regional director of the Federal Emergency Management Agency in 1997, a year after he unsuccessfully ran for Congress. (He also ran, and lost, in 2002.)
Weiland said the DSCC may not sit out the whole race.
"I think there's a possibility that they'll get engaged here," he said. "I'm feeling that this race is just starting to get on the national radar screen. The national party has been pretty focused on some of the more vulnerable incumbents, some of the higher-profile open seats, but I hold out that at some point South Dakota will be on there. I'm absolutely convinced I need to continue doing what I'm doing, working as hard as I can, to get this race in a place where it is viewed as a competitive race."
Rounds' path to victory in November became more complicated when former Sen. Larry Pressler (R-S.D.) entered the race as an independent. Weiland said he thinks he has a shot if Pressler and Rounds split the right-leaning vote.
"I can't help but think if it comes down to a former two-term governor and former three-term senator and I'm the only Democrat on the ballot this November that anything's possible," Weiland said. "It's very unpredictable."
"I'm really running hard against big money and how it's gotten in the way of good public policy," Weiland said. "We've seen it every day here in South Dakota. I came out for a Medicare choice option, because anyone of any age should be able to buy Medicare. People here in South Dakota understand Medicare. We've got 140,000 who are Medicare beneficiaries. [Medicare] works and it's simple. It was the big-money insurance companies and drug companies when the Affordable Care Act was being discussed that got in the way of a Medicare option. The Affordable Care Act isn't affordable enough. I talk about everything in the context of how the big-money interests have gotten in the way."
Rounds rejected Weiland's suggestion in June that the candidates limit their campaign contributions, and has gone on to amass a $9 million campaign war chest. Weiland said he thinks he can turn this distinction to his advantage.
Weiland said he has a lot more traveling ahead. After he visits all the state's incorporated towns, he'll start on its dozens of unincorporated towns.
"I haven't seen any effort like this on the other side," Weiland said. "I think [Rounds] is more focused on raising money out of state. It's a pretty interesting contrast. I really feel like I'm out there earning it. As a result of the outreach I've done, it's going to make me a much better South Dakota senator. I've been in every nook and cranny of this state and met some pretty interesting people."
Calling all HuffPost superfans!
Sign up for membership to become a founding member and help shape HuffPost's next chapter
BEFORE YOU GO
PHOTO GALLERY
Senate Seats Up For Grabs In 2014