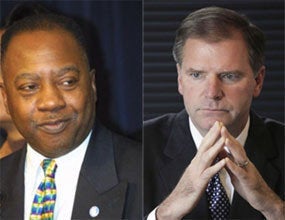 The already dirty race for Illinois governor has become even nastier.
On Saturday, Governor Pat Quinn was joined by state Senator Rickey Hendon at a "get out the vote" event on the West Side. The senator, sometimes called "Hollywood Hendon" for his bold personality, went on to call Quinn's Republican opponent an "idiotic, racist, sexist, homophobic person."
"If you think that the minimum wage needs to be three dollars an hour, vote for Bill Brady," Hendon told the crowd. "If you think that women have no rights whatsoever, except to have his children, vote for Bill Brady. If you think gay and lesbian people need to be locked up and shot in the head, vote for Bill Brady."
Quinn stood beside Hendon as he made the comments, but distanced himself from the remarks following the event.
"I thought the comments were inappropriate and said so immediately," Quinn told the Sun-Times. "I in no way endorse them."
"More than me, I think he owes the people of Illinois an apology," Brady told the Tribune. "Gov. Quinn has let this campaign stoop to a level that the people of Illinois are embarrassed by."
Hendon, who is also running for Chicago mayor, made somewhat of an apology on WLS Monday morning--after previously saying that he was just telling the truth.
"On your show right now I will apologize to the people of the state of Illinois if they were offended by what I said, but I will not apologize to Bill Brady for telling the truth about his voting record," Hendon told Cisco Cotto on WLS, according to the Capitol Fax blog.
Quinn's running mate Sheila Simon had a similar reaction, telling Fox Chicago that "it's not fair to label anyone's character with harsh language. But a candidate's policies are fair game."
"State Senator Brady has certainly voted in a way I see is inconsistent with women's rights," Simon told Fox. "He tried to sponsor legislation to roll back the human rights act in Illinois."
WATCH Fox Chicago's coverage of Hendon's comments here:
Calling all HuffPost superfans!
Sign up for membership to become a founding member and help shape HuffPost's next chapter