 Ricki Lake has come a long way since she first burst onto the scene as the adorable Tracy Turnblad in 1988's "Hairspray." Her bubbly and vivacious personality eventually led her to host her own talk show, which ran for 11 years.
Lake then morphed into yet another entirely unexpected role -- a passionate advocate for the home birthing movement. She even produced a widely seen documentary, "The Business of Being Born," about the subject. Last year, the 43-year-old mother of two came in third on "Dancing With the Stars," and earlier this month, she secretly tied the knot with her boyfriend, Christian Evans.
Lake recalls all of this and more in her engaging memoir, "Never Say Never," in which she talks honestly about her struggles with her weight and body image. "It's definitely something that I still battle," she says. Lake chatted with The Huffington Post about her book and coming to terms with her body image.
You write very honestly about how you were molested as a child. Do you think that contributed to your weight problems?
Absolutely. I've talked about it publicly, but not in depth. This has really been a huge journey, to put it all out there, but absolutely I think every experience I've gone through, all the hardship, overcoming all the challenges make you who you are. I certainly wouldn't wish that upon anyone and it was a horrible thing to come to terms with, to be violated in that way, but I think it's given me a lot of my compassion, my ability to kind of connect with people when they're talking in very intimate details about what's going on in their lives. It's helped me grow into a compassionate kind of person and definitely with the weight stuff, the battle started there. I remember being adolescent and growing breasts and going through these changes and not wanting to feel attractive.
Your parents' silence after you told them was just as damaging.
I think so. I think they did the best they could. They loved me and they were flawed. I accept that and I don't judge, but yeah the silence and the fact that it wasn't addressed and it was just pushed under the rug took its toll on me.
You were 18 when you starred in "Hairspray." It seems you decided that everyone loved you then, so you could love yourself.
It was like that. It gave me permission to think "Now everyone thinks I'm great and adorable -- it doesn't matter that I weigh 200 pounds, so it must be true." It was a false sense of security.
What was your moment of clarity for losing the weight?
I hit bottom. I was 21; I was in a really unhealthy relationship. I couldn't pay my mortgage. I couldn't get my agent to call me back. The only thing I could control was what I put in my mouth; everything else felt like it was so out of control. So I made a pact with myself. I didn't tell anyone. In this business you need to have a gimmick and mine was being this cute, funny, fat girl. I thought, I've got to change it up. I lost 100 pounds. I did it myself. I didn't have surgery.
It still seems like a struggle for you.
I'm always conscious of it. I went back to "Dancing With the Stars" last night and it was the first time I'd been back and I felt, "Oh God, I've gained weight back." I was afraid people were going to say I looked fat. I'm always going to be a work in progress. I feel like I've come a long way. I'm in such a beautiful, healthy relationship with someone who loves me no matter what. We've had conversations where I asked him if he has a preference, slender or curvy. He's like, "I love you no matter what you weigh. I want you to love yourself." It's powerful to hear those words from someone you want as your life partner.
You've found your calling in the home birthing movement.
Absolutely. Deep down, I really wanted to be a midwife. I think it's just the most beautiful thing to be able to work with women and be there during that most sacred moment. I was so empowered when I gave birth, particularly to my second son, the way I chose, in my home with a beautiful midwife and doulas.
I really did make peace with my body during that second birth. I did a lot of healing, the sexual abuse and hating my body and not wanting to feel beautiful and like a woman. I really took ownership of what my body was able to do.
You had a pretty rotten divorce.
It was awful. We do have a mutual respect for each other. We put our children first, but it was not easy. I was that romantic that when I got married at 25, I thought it was forever, and by the time I had my second son, I had a feeling it might not last forever. I became pretty cynical about marriage and whether you can love someone and be with that one person forever, and thankfully Christian came into my life and turned my life upside down. I have never felt as loved and nurtured and accepted as I am in this relationship. He's just opened my world. It's profound.
I think people would be surprised to read that you went on dating websites.
I was on a few of them, J-Date, Match.com. I didn't use my name. My friends all believed that everyone must have known it was me. I believed that they didn't. It felt safe to correspond with people with some kind of anonymity and then to build some kind of friendship and take it from there.
And you're going to have a new talk show. Go Ricki!
This will be very different. This is the upgraded, evolved "Ricki Lake Show." I've changed a lot in eight years. It's educated content. I think I've outgrown the talk-to-the hand, "who's the daddy" DNA test [show].
Before You Go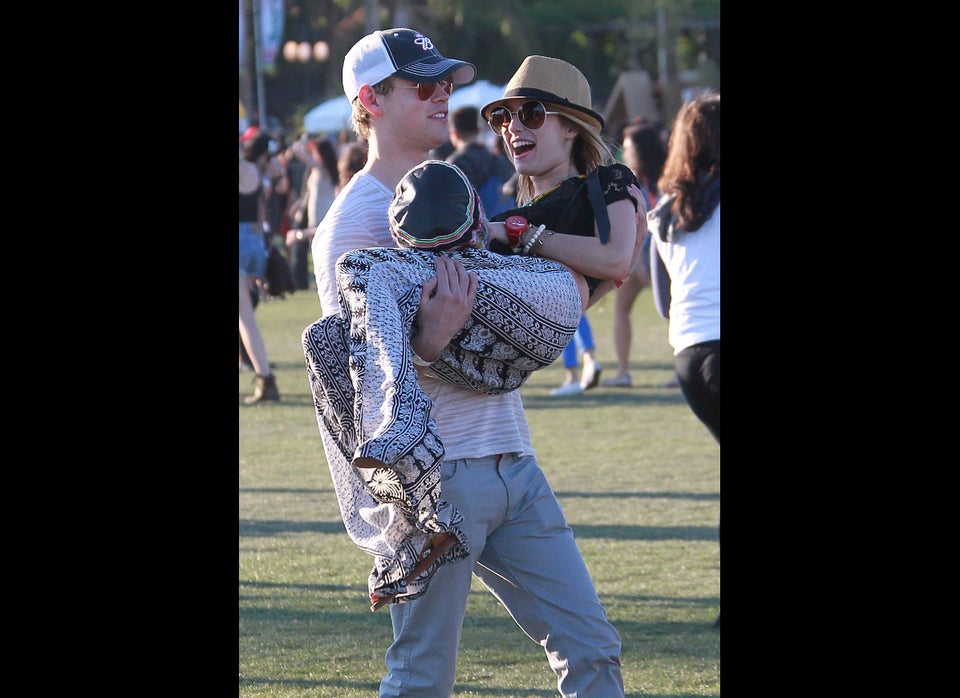 Celebrity Photos 4/16-4/20
Popular in the Community