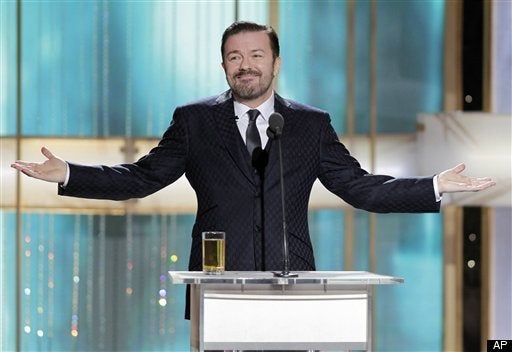 UPDATE II: Gervais has opened up further about his assertion that he was asked back, clearing up the matter -- with his trademark digging humor. He posted to his website:
You may also have read that I am hosting next year's Golden Globes. This is not true. Not yet anyway.

The TV show organisers said they were happy with everything and asked me to not rule out a third gig. However, it is not entirely up to them. The Hollywood Foreign Press and various other committees need to meet and agree. I have no idea if they want me back again. It depends whether they care about fifty delicate egos in the room or the 200 million people watching at home who want a laugh. Also, even if they did want me back, at the moment I'm pretty sure I shouldn't do it. But I'll tell you this. If they do invite me back and I accept, I'm going to pull exactly the same s**t again or even worse.
UPDATE: Phil Berk, President of the Hollywood Foreign Press, denied Gervais was asked back, telling The Hollywood Reporter: "There is no truth to this rumor. We have not asked him to come back. Nice try, Ricky."
___
For the Hollywood Foreign Press Association, apparently the only thing worse than bad press is no press at all.
After Ricky Gervais put on an insult clinic that got the nation buzzing for weeks after his Golden Globes hosting duties -- which the HFPA spoke out in part against -- the actor and comedian has revealed that the Globes' producers have asked him back for a third straight year of hosting -- defying his prediction.
"I did exactly what I went to do. Improve on last year's and have a laugh. The response was staggering. It was discussed on every news channel and chat show for weeks," Gervais wrote in a diary for Heat Magazine. "The ratings went up again, and the organizers asked me to consider a third year. I don't think I should. I don't know what I could do better. I certainly couldn't get mor press for them, that's for sure."
"I'm not going to apologize for being true to myself," he said. "My strategy is to make me laugh. If there's anyone in the world like me, that's a bonus."
Now, it seems the HFPA would be nauseated without all the ratings and buzz. But will he take the job? As he said in the Heat article, he writes that two seasons is enough for him, and he also said so in an interview with reporters shortly after the show. But stay tuned.
Popular in the Community