UPDATE: Gervais told reporters on Tuesday that he won't be returning to host the Golden Globes for a third time -- whether the Hollywood Foreign Press Association asks him or not.
"I think twice is enough," he said, adding that he doesn't care whether he's asked back or not.
___
PREVIOUSLY:
Ricky Gervais is in your face -- both on screen and in fashion.
All the same conspiracy theories as last year too... "So and so was offended"... "hasn't been invited back yet"... exactly the same as last time. "Paul McCartney was furious"... no he wasn't. And nor was Tim Allen and Tom Hanks. I was drinking with them after.

Why do people have to embellish? They're allowed to say they hated it. They're allowed to say they didn't find it funny, that it was tasteless, over the top, or whatever. But why do they speculate and make stuff up?
Gervais also addressed rumors that he had been pulled during the middle of the show, during which he disappeared for nearly an hour.
As for the golden boxers, Gervais said that Ellen Degeneres asked him to wear them during the show, and he agreed -- the picture is from before he put on his tuxedo.
PHOTO: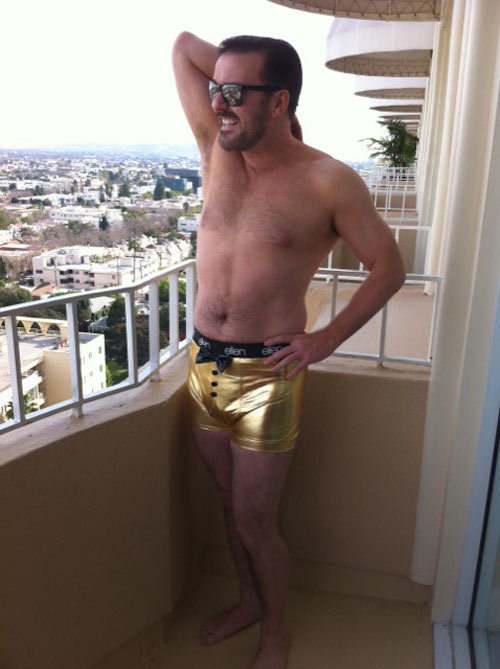 Popular in the Community