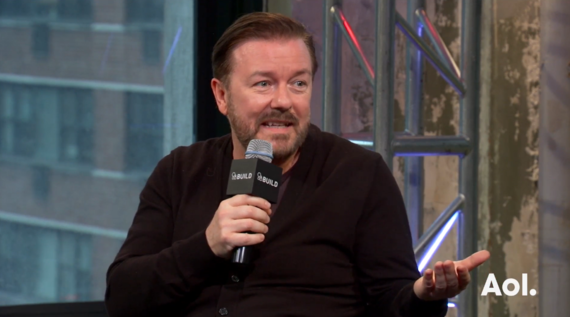 Ricky Gervais isn't fooling me.
Whether you know the British entertainer for creating the widely popular series The Office or for crudely calling out celebrities at the Golden Globes, your description of him almost certainly contains the word "offensive." However, those who are aware of the heightened personas public figures tend to wear might know better.
If you haven't gathered it yet, I am indeed here to defend Ricky (without tackling the long list of his distasteful comments, of course) because I know under that dry exterior is a heart of gold.
Over time, Ricky has revealed glimpses of his true nature - slipping small smirks or coy laughter after delivering impolite remarks - but it wasn't until his visit to AOL BUILD (a live streamed series famous for its down to earth interviews) last week that I put it together. There to promote his latest film Special Correspondents (Netflix's first stab at an original film), Ricky let his kindness shine. Take a look at the three main ways:
1. He Has a Pretty Beautiful Perspective on Life:
"We're all three dimensional. Good people do bad things sometimes, bad people do good things sometimes... We all change." Ricky went on to discuss film production saying, "I think we create our own fictional heroes and villains as role-play for the soul - so no one actually gets hurt. So you live all these moments. I think we're good people deep down. We like someone doing well or apologizing... we like those moralic tales. We want our heroes to get some sort of satisfaction or, even, reward. It's almost like we improve on life. We make our own heaven and hell. If it's done well people feel good... We want justice deep down... Deep down we sort of wonder is this all there is? I think comedy at its best says we're all idiots sometimes. I like people identifying with it."
2. He is a Romantic:
"I've never understood [why people say] - I'm a terrible cynic, this shock comedian... cruel... I've always liked a romance," Ricky said during the "audience Q and A" portion of the show. (Keep in mind Ricky is responsible for the iconic Pam and Jim relationship).
He seems to be just as romantic off the page as well telling AOL BUILD that he very much looks to his girlfriend for advice: "My girlfriend hears all my ideas first."
3. He Supports Animal Foundations:
"I've never understood cruelty to animals. I never got it," Ricky said. "I was never that kid who pulled wings off a fly... I thought they were us. People who don't have empathy with animals, I don't think they have empathy. We ARE animals... I can't bare the idea of an animal in pain because it hasn't got a voice... I'm famous and I've got lots of Twitter followers [speaking out is] the least I can do. I don't think I do a lot."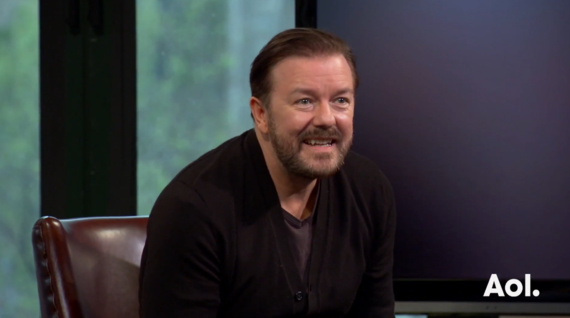 Whether you're a fan or not, there is a pretty great takeaway here - not only is "what you see not always what you get," but we have to remember that we're all merely humans bopping through this weird virtual reality game called life. Can I fit anymore clichés into this article? Maybe, but I'm going to stop now by saying - I appreciate your kindness, Ricky Gervais.
Watch his full interview on AOL BUILD here.
Calling all HuffPost superfans!
Sign up for membership to become a founding member and help shape HuffPost's next chapter