Before officially launching his current tour, "Humanity," earlier this year, Gervais wrote about it on his website, saying it was his best stand-up set due to the fact that "truth is so important now." When HuffPost got the chance to chat with him in a recent interview, we asked the comedian to elaborate on that point. He wasn't shy about sharing his thoughts.
"With the internet era and social media and politics being so out there with the lies, now you've got people denying things they're on camera doing, and then you've got people not really caring about the truth. You've got people supporting people who've done horrific things, but just don't want the other side to get any satisfaction. Nowadays, no one looks at the argument, they look at who's saying it and they try to discriminate … as opposed to looking at the actual truth," said Gervais.
The comedian added that the truth is the truth, no matter what.
"I'm a scientist at heart, so I know how important the truth is, however inconvenient, however unattractive, however embarrassing, however shocking, the truth is the truth and wanting it not to be true doesn't change things," he said. "Science doesn't give a fuck what you believe, nor does truth."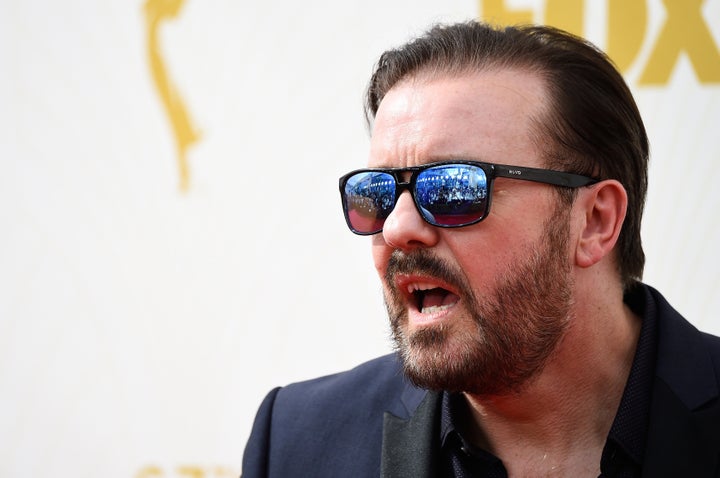 Gervais has no plans to hold back his opinions. He said he's been performing stand-up long enough that his audience knows him, allowing him to get away with more. He's also developed strategies to stop others from getting away with things. 
The comedian is a staunch supporter of various charities, both financially and through raising awareness on social media. But for his tour, he's found a way to help worthy causes while also discouraging scalpers, aka touts.
"What I did was I sort of made 100 or so of the best tickets in the house a premiere price, so it was too expensive for the touts to buy and take a risk on them, and I gave the profit to charity, so I won't be benefiting either," he said.
That strategy is continuing for his upcoming U.S. shows, with proceeds from his New York performance going to Delta Society and the ASPCA, while his Los Angeles shows raise money for Larger Than Life LA and The Humane Society.
"Hopefully, statistically, what we did is we soak up the number of people in any town willing to pay 200 bucks and we make sure it goes to a charity," he said.
This tour is more personal for Gervais. Yes, he does have some serious moments in the set, but he assures fans there's a joke around every corner and everything is tongue-in-cheek, even the title. 
"I take a comedic slant on it. In fact, I start the show by saying, 'Welcome to my new show, 'Humanity.' I don't know why I called it that. I'm not a big fan. I prefer dogs,'" he said.
Gervais added, "You can laugh at anything. It depends on the joke." Though it's still a little unnerving when the comedian quips, "You've got a president who tweets. We could have a war because of Twitter."
Sometimes, the truth can be scary. 
Ricky Gervais heads to NY's Madison Square Garden on Oct. 25 and the Dolby Theatre in LA on Oct. 28 and 30, and Nov. 1.
REAL LIFE. REAL NEWS. REAL VOICES.
Help us tell more of the stories that matter from voices that too often remain unheard.
BEFORE YOU GO
PHOTO GALLERY
Comedians' Relationship Quotes