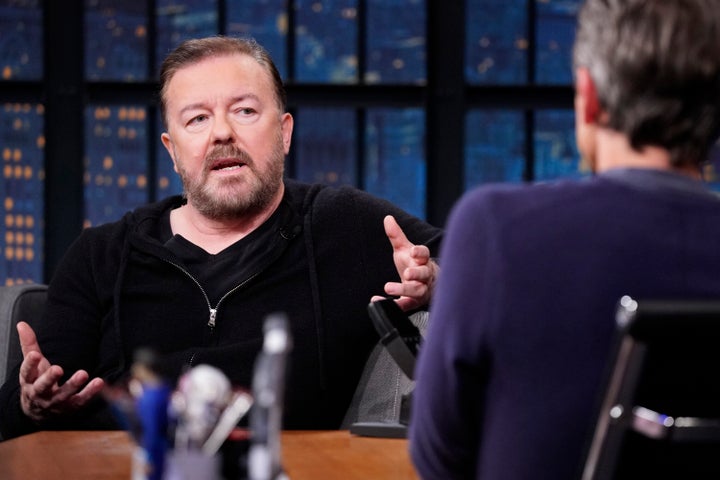 British comedian Ricky Gervais, who released "SuperNature" with the streaming giant on Tuesday, is facing criticism for transphobic remarks he made in the comedy special. One of the remarks, Variety reported, included a joke about women with penises.
"Like, the worst thing you can say today, get you cancelled on Twitter, death threats, the worst thing you can say today is, 'Women don't have penises,' right?" Gervais said. "Now, no one saw that coming. You won't find a 10-year-old tweet of someone saying, 'Women don't have penises.' You know why? We didn't think we fucking had to."
Gervais also made a joke indicating "old-fashioned women" have wombs while new ones have "beards and cocks."
GLAAD, an organization that combats anti-LGBTQ rhetoric, issued a statement blasting the content in Gervais' special on Tuesday:
It's not the first time Gervais has offended the LGBTQ community. In a 2018 Netflix special, he reflected on a transphobic joke aimed at Caitlyn Jenner that he made during a speech at the 2016 Golden Globe Awards, USA Today reported.
"I'm playing with the notion of stereotypes," Gervais said of the joke in 2018.
Gervais said that he didn't change as much as Caitlyn Jenner, a trans woman, in a year's time and he joked that her car crash in 2015, which claimed the life of a 69-year-old woman, didn't help stereotypes about women drivers.
"If you find it hard to support our content breadth, Netflix may not be the best place for you," the memo stated.
Support HuffPost
The Stakes Have Never Been Higher
Popular in the Community