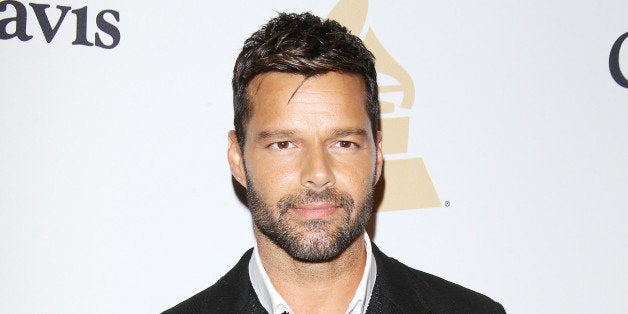 Martin, 43, is preparing the debut of his first studio album since 2011, "A Quien Quiera Escuchar," on Feb. 10. The singer spoke with Billboard ahead of its release to talk about his life as a single dad on the road, why he hasn't recorded another English-language album and more.
The Boricua had a busy 2014 between coaching on The Voice Mexico and The Voice Australia, working on his album, concerts, and inaugurating a school and center in Puerto Rico to help children at risk of violence or abuse.
His busy schedule has him on the road for most of the year, and the singer says many have expressed concern over having his 6-year-old boys constantly with him.
"I can't [leave them in Puerto Rico] -- I don't work well without them," Martin told Billboard. "They're stuck to me constantly. If I'm in L.A. and have to travel to Hong Kong for 24 hours, I'll leave them with my mom. But fortunately, I have sons who are warriors and who were born on tour and don't know anything else. They're road babies. Some people say, 'Ricky, your kids need stability,' and I say, 'I'm their stability. They feel unstable if I'm not there'."
And being a single dad to twins, who were born via gestational surrogacy in 2008, has come with its share of unique challenges. But the star seems to always have the answer. Last September, Martin spoke about one of the most difficult questions one of his boys has asked.
"'Dad, was I in your belly?' and I told him, 'you were in my heart and you are still in my heart'," Martin said in an interview with Univision MIX 98.3.
"So I explained further, because I couldn't just leave it at that: 'There was a woman that I adore with all my heart that helped me bring you into this world. She lent me her belly so that you could come and when you were born she put you in my arms.' And he said 'ah, ok' and he kept playing," the singer added.
During his interview with Billboard earlier this month, Martin also spoke about his hopes for gay marriage this year. The star said he expected good news from the Supreme Court this June because "equality is inevitable."
Martin took a break from his career to raise Matteo and Valentino, but the artist returned in full force in 2014 with his single "Adiós" and more. But despite past crossover success, fans shouldn't expect more English-language albums from the singer after 2005's "Life."
"'The Cup of Life' was No. 1 in over 70 countries and it was in Spanish," Martin said of why he continues to record in Spanish. "And I took 'Maria' to France, Sweden, everywhere. Look at what has happened with songs like [Don Omar's] 'Danza Kuduro' and [Enrique Iglesias'] 'Bailando.' They're everywhere and they're in Spanish. Language no longer intimidates."
Take a look at more from Martin's interview with Billboard here.
REAL LIFE. REAL NEWS. REAL VOICES.
Help us tell more of the stories that matter from voices that too often remain unheard.
BEFORE YOU GO
PHOTO GALLERY
Ricky Martin's Early Years