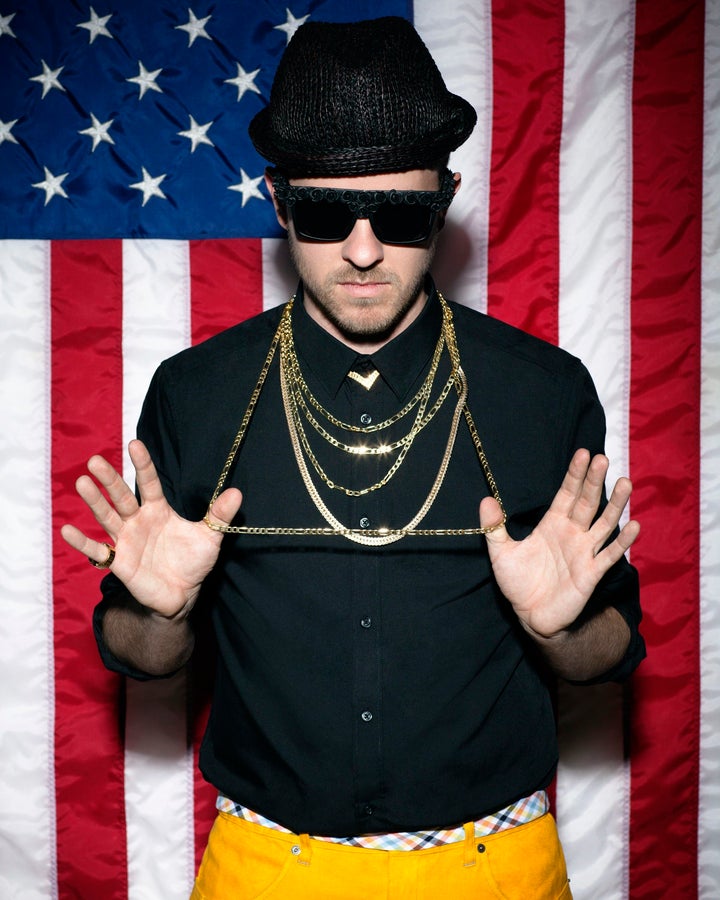 Who: Wallpaper's Ricky Reed: the North Oakland party boy redefining pop music one dirty club song at a time. Reed describes himself as a "sleazy, excess-obsessed, disco-ball busting crowd destroyer." He's kind of like Justin Timberlake on sizzurp.
Years in the Bay Area: Life.
Current Gig: Born Eric Frederic (but according to his publicist #RickyReedIsReal), Ricky Reed became a local sensation for his catchy songs and irreverent lyrics that poke fun at pop culture. (Choruses include "text me your love so I know it's true" and "I'm not just anybody; I slept with a celebrity.")
But with the release of party jams "FUCKING BEST SONG EVERRR" and "STUPiDFACEDD," Reed skyrocketed into the mainstream, signing with Epic Records, the same label that released Michael Jackson's "Thriller." While his new songs have certainly been polished, his funky surrealism and sense of humor remains.
Reed took a break before his Friday night show at the Rickshaw Stop to talk to The Huffington Post about illegal Buddhist brunch, his adventures on BART and the best parties in San Francisco.
So Ricky, you're from the Bay Area? All the way -- I was born at Alta Bates Medical Center in Berkeley. I've bounced around between Oakland, Berkeley and San Francisco, and now I split time between Berkeley and LA.
Uh oh. Is an LA move in the future? [Sighs.] I could see the LA move happening. I would much rather live here, but living in the Bay permanently is a luxury I can't afford right now. There comes a point in a music career when you can tell people they have to come to you. But I'm definitely not there yet.
Do you think the Bay Area has influenced your music? Oh, let me tell you something: my music IS the Bay Area. I wouldn't be able to make the music I make now had I not grown up here. I grew up listening to bands like Digital Underground, E40 and Mac Dre. But as I've grown older, I've realized that it's much deeper than that. I'm very influenced by some of the older bands like Sly and the Family Stone. My music has evolved to reflect that multigendered, multiracial, multigenre music. Whether I realized it before or not, I'm most influenced by that rock and soul hybrid.
Which current local acts you have your eye on? A-1 will be at our show on Friday and he's great. I also like Starting Six and this dude, Roach Gigz. And I love Midi Matilda.
What are the best venues to play in town? Rickshaw Stop is my favorite, but I also really like the Stork Club in Oakland. I like Slim's, Bottom of the Hill, and I LOVE Great American Music Hall. And the Starry Plough. Actually, I don't think I've ever played the Starry Plough, but I've certainly had a few long nights there.
Any parties you don't miss when you're in town? I always try to hit the Jeffrey Paradise and Ava Berlin parties. I had some of my first shows with them, and I owe them a lot. These days, I'll just do a house party or Beer Revolution in Oakland. But I'll tell you what I don't miss: Bay to Breakers. I always get down at Bay to Breakers. I also really love First Fridays in Oakland. People just laid back, drinking out of the bottle in the middle of the road -- it's such a cool fucking vibe.
What are your favorite local restaurants? I love El Farolito and Taqueria El Buen Sabor. I dig Osha Thai and I love Brown Sugar Kitchen in Oakland. That's probably my favorite place to eat in the whole Bay. I also love the Sunday brunch at the Thai Buddhist temple. [Wat Mongkolratanaram] It's this halfway legal brunch that everybody comes out for.
You've been on the music festival circuit, but you're playing at the Rickshaw Stop on Friday. Is it good to play at home? Absolutely, especially since we're playing at the Rickshaw -- we've had some crazy times at that venue.
Tell me about your craziest night partying in San Francisco. Well, while the gory details must be spared, I'll tell you the craziest night in recent memory was when they shut the Bay Bridge down. We had a show in San Francisco and were so stressed that people wouldn't come out. But it was the opposite. BART ran all night so people got crazy. We went out in the Mission after the show until the bars closed, dudes were getting in fights on Muni -– the works. Then, since I'm a sensible dude, I took BART home at 3 a.m. and it was packed. People were puking everywhere, and I was singing Rocksteady with these hip-hop dudes and everybody started singing along. BART only had a few stops open on the other side so must have walked about ten miles around Berkeley at dawn to get home.
Do you have any favorite nature spots or views? Oh yeah, I've got a spot. I'll only tell you about this spot because it's a mission to get there. So you drive up Claremont Avenue in Berkeley and pass the hotel. Right after you pass the hotel and before you really start climbing the hill, there's a turnoff on the left. There's this little trail and it is as steep as it gets. You climb up and I'm fairly certain you turn left at the fork. Now you've gotta look carefully, but there's this baby bamboo plant on your right and next to it is a tiny trail that you barely notice. Walk up there and you'll know you're at the top when you see the infinity symbol in the rocks. From there, you can see from the Richmond Bridge to the San Mateo Bridge. On a clear day, you can't fuck with it.
Calling all HuffPost superfans!
Sign up for membership to become a founding member and help shape HuffPost's next chapter