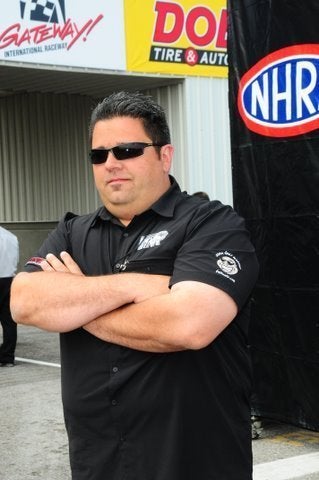 Whether you find it amusing or a tad offensive, there's no denying that the name of Rico Elmore's business is catchy, memorable and above all, descriptive: Fatheadz, a line of sunglasses and prescription eyewear for customers who, well, have fat heads.
Let's face it, America's expanding waistline represents plenty of business opportunities for entrepreneurs with products catering to the bigger among us -- and Elmore is starting to corner the eyewear market. Want proof? Fatheadz, which recently struck a deal with Walmart, hit $2 million in sales in 2010, an increase of 185 percent from the year before.
Not bad for a guy who didn't go to college. Elmore, 37, grew up in Newcastle, Ind., with three brothers, a father who worked as a sales manager for Procter & Gamble and a mom who ran a pizzeria. One fateful day, the 6-foot-3, 300-pound entrepreneur found himself wanting to buy a new pair of sunglasses. The futile search turned into a million-dollar idea.
So how did this idea come about?
I had some sunglasses that didn't fit right for a long time, and I was in Las Vegas on my honeymoon and went to The Forum Shops to find another pair, because I had forgotten mine at home. Well, I tried on several hundred pairs and came away a little disappointed, to say the least. I walked out and made the comment, "We're going to start a business and call it Fatheadz, and we're going to make it all about eyewear." I just had it in my mind that I wasn't the only person this had happened to. So I came back to Indiana and worked it out for a couple of years. That was in March 2004, and by the end of 2005, we launched our first few products, and we've been steadily growing ever since.
Was it really that easy? A lot of people have good ideas for businesses, but they can't always pull them off.
Well, I hooked up with three or four different people -- someone at an engineering firm, for instance, and a molder. And things seemed promising, but a couple months went by, and the engineering firm didn't call me back, and so I called them and asked, "What's going on?" And they said, "Well, we've been talking about it, and this isn't that great of an idea." So I said, "OK, strike one." Then I went to a patent agency and talked to them and said I'd like to do that, and their response was, "Yeah, you're never going to get anything done with that." Strike two. But eventually I got things moving and by the end of 2005, we were offering a couple of products. They were OK, but they weren't great. They were pretty bush league. But we started working on them and had pretty good success.
Tell us about the name. I mean, Fatheadz. That's just classic.
The name says it all, doesn't it? Some people don't like it. We've pitched some of the big-and-tall stores, and they're, like, "We'd do that, but your name is kind of offensive." But my feeling is, if you've got a fat head, embrace it. And the name on our eyewear isn't splattered across the frame. It's put very quietly on the inside of the frame, and our customers know that Fatheadz is something that they can count on, that they can say, "I can put on this frame. That's a Fatheadz frame, and that's going to fit me." We're working on clothing and a shoe line that will encompass the big man as well. So there, again, we want stylish stuff for the big man.
So how do people know if they have a fat head?
People who have a fat head know they have a fat head -- if you put on, say, a traditional pair of sunglasses, and it looks like the arms are getting ready to flip over your ears, or if every time you wear your glasses, you get a headache. Of course, I'm stereotyping, because we have smaller people who have big heads and bigger people who have real big heads. I asked a [shoe store] that I do business with, "Do you carry a size nine shoe, and that's it?" And the person said, "Well, God, no." So I asked, "Well, why would you have one-size-fits-all eyewear?"
What advice do you have for entrepreneurs who have a good idea but haven't quite become successful yet?
Just keep working at it. If you believe in what you're doing, don't quit. That old saying: Winners never quit, and quitters never win. I've learned that you find more people who will tell you how you can't get something done than how you can get something done. They often won't say, "Let's go -- we can make that happen." I have had a great mentor, though. Forrest Lucas, the owner of Lucas Oil, has been very instrumental to me. I can call him up and say, "You're not going to believe this," and he starts laughing and says, "The same thing happened to me."
You know, one of the biggest problems we've had has been during the downturn in the economy. We wanted to get some financing put together just to move product in and out. But if the U.S. banking industry isn't lending money to the entrepreneur, we're going to have a hell of a lot more problems than we have now in business. If you won't give money to someone like me who is going to hire eight or nine or 10 people, then you've got a problem.
I think some business owners are going to be a little troubled to hear that even a fast-growing company like yours can't get the type of financing you want.
Well, it's an honest story. It's just the way things are right now. But I hope people aren't depressed. I want to inspire people. I want people to realize that if you have a dream and a goal, then guess what? Do it! Business can be challenging. Still, for the most part, it's a lot of fun.
Name: Rico Elmore Company: Fatheadz Age: 37 Location: Indianapolis Founded: 2005 Employees: 10 Revenue: $2 million Website: www.fatheadz.com
The original version of this article appeared on AOL Small Business on 7/29/11.
REAL LIFE. REAL NEWS. REAL VOICES.
Help us tell more of the stories that matter from voices that too often remain unheard.