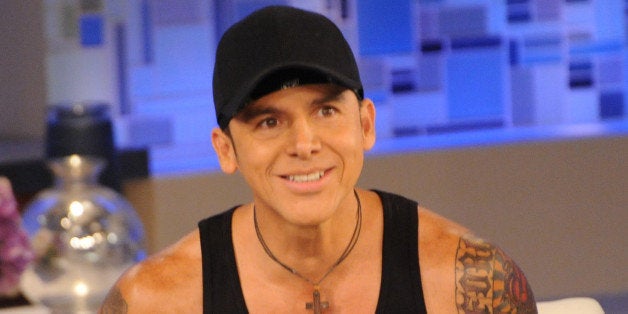 It's been over two decades since Gerardo Mejía's single "Rico Suave" dominated the airwaves, but the Ecuadorian rapper is back to show he's more than just a one-hit wonder.
Mejía created the "Latin lover" persona Rico Suave in 1991, donning little more than skintight jeans, a bandana and rock-hard abs. Now, a new 10-episode docu-series on VH1 titled "Suave Says" will let the world know what Mejía, who's gone from singer to music executive to youth pastor, has been up to since his mega-hit. The show premieres at 10 p.m. Wednesday.
When host Nancy Redd asked Mejía whether he thought his Latin lover persona had set Latinos back, the rapper responded that at the time, there were other stereotypes he was trying to distance himself from.
"I did every gang role you could think of, and that's what was offered to me. ... So as a Latin guy I'm like, 'Enough,'" Mejía responded. "At that point I said, 'I'm going to make this persona of this Latin dude,' that at that moment I looked at it as positive: The Latin male, the womanizing type. And that's where the idea of Rico Suave came out."
Before the premiere of the VH1 show, Mejía spoke to The Huffington Post about his career as an A&R executive for Interscope Records finding talent like Enrique Iglesias, his multicultural family and why developing Latin artists is important to him.
Let's take a journey back to 1991. Did you expect "Rico Suave" to be the hit that it was?
Never. No, I just wanted my mom to go buy my record at the store. I was not ready for what was coming. When that record came out I had signed to a new company, I was the first artist for a company that was supposed to be big, called Interscope, and I didn't have a clue what could happen. I guess what started it all off was when MTV started playing it.
"Rico Suave" was the name of your hit, but it wasn't exactly your stage name. Did you embrace it as your new nickname?
Yes, even to this day -- which is funny.
There were a lot of Latino crossover artists that ruled the '90s. What was your experience as a Latino trying to make it in the music industry?
The reason I got into music was because I was doing a lot of acting before, and as a Latin actor one of the things I was tired of was that every time I was casted, I was a gang member or a drug dealer or the bad guy. So when this opportunity came of me doing music, I just saw an opening. At that moment, I saw that MC Hammer come out and black people went nuts, but then Vanilla Ice came out and white people lost their minds. So I thought I was going to stick with the brown people. And I went out there and I did it. There were a couple of rappers that were coming out in that day -- they had success, they just didn't have the support. MTV gave us support ... the one thing that helped me was that the Rico Suave image took off.
Fast forward to today: Most people remember the song, but might wonder what happened to Gerardo Mejía. What's one thing that might surprise fans about what you've been up to?
Well one thing is that I never left the music business. I was behind the scenes, basically the only thing I wasn't doing was getting up on stage. I got to produce a lot of great artists, I got to sign some big artists of the industry. As an executive I did a lot better than as an artist. People don't know that I discovered Enrique Iglesias, I discovered Bubba Sparxxx and signed them to Interscope Records.
When I saw that my time was up as an artist I went back to Interscope Records and told them "Listen, give me an opportunity. I know how to make the crossover from being Latin to the Anglo market, I think I can do it with other artists" and the first person that I brought in was Enrique.
And in your personal life you've also recently become a pastor?
I'm basically what you call a lay pastor, which is a pastor in training. I've been giving Bible studies at my house for the last seven years, the reason why I don't have my license yet is because I haven't committed to one place. With my work and everything that I do and my family, it's pretty hard to settle ourselves in one spot. … My heart has always been with young kids. I talk to them and point them towards God, so hopefully they don't make the same mistakes that I have done.
"Suave Says" will follow your family life, which has a mix of cultures and is a reflection of a more multicultural reality in the United States. How do you think audiences will react to that?
I think that's what's going to work. What makes our show relatable is that clash of cultures. The clash of cultures is the funny thing about it. As a Latin man, I know what I bring to the table: Kind of reserved, kind of conservative, I'm that old school Latino. Then there's my wife, she's the white woman with a family who is very liberal. Her parents were hippies back in the day.
You're developing a young Latino boy band right now, Future Stereo. Is promoting Latino artists in the U.S. mainstream music scene something you find particularly important?
Yea, and not just promoting them. My thing is that I understand the market and the business, I think what I bring to the table is a lot of experience, and I love to find potential talent. The people that I work with, they're young kids that are talented but are not quite there as artists. ... I love to develop, and "development" is not a word that record labels want to hear anymore.
When you go to a record label now, you better have 3 million hits already before they even listen ... Now an A&R handles 50 to 100 artists and whatever sticks, you go with. So I decided to start my own company, to produce artists, develop artists and manage up-and-coming artists.
I know how important it is to get to my people, the loyal fans have always been the Latin loyal fans, and those are the people I want to get to first.
Catch "Suave Says" on Wednesdays on VH1 at 10 p.m. until Dec. 23, and then on Tuesdays at 10 p.m. after that.

Calling all HuffPost superfans!
Sign up for membership to become a founding member and help shape HuffPost's next chapter
BEFORE YOU GO
PHOTO GALLERY
Our Favorite Disney TV Stars: Where Are They Now?