The warrior cried, but not for himself.
His tears flowed from the blessing of the little girl -- the one with the angel-voice. And, as we stood in ovation in the American Legion Hall her lyric, "... I once was lost, but now I'm found. Was blind, but now I see" reminded him why his military service and the forty-odd years since had all been worthwhile: her Freedom, our Freedom.
As our tearful eyes locked, he restrained in a whisper, "See that? That's why I lost my legs in Vietnam." But then he smiled, "losing my legs is the best thing that ever happened to me... it's why I am here right now, and it's given me a great life."
Of course, I can never truly know the depth of my new friend Duane Wagner's struggles in meeting his post Vietnam war challenges, but I was privileged to share with him a true moment of 'amazing grace' in the knowledge that his sacrifices -- and all those of his compatriots -- were not in vain.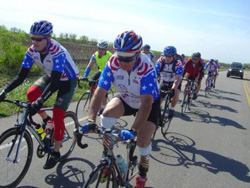 That beautiful moment was but one of countless expressions of dignity and courage that I witnessed during my participation in this year's Ride 2 Recovery "Don't Mess With Texas Challenge" -- a 350 mile bicycle ride from Brooke Army Medical Center in San Antonio, Texas to Arlington's Texas Ranger's Ballpark, Mar. 30 - Apr. 4, 2009.
Ride 2 Recovery is produced by the Fitness Challenge Foundation, in partnership with the Military and the VA Volunteer Service Office, to benefit Mental and Physical Rehabilitation Programs that feature cycling as the core activity.
When Former Marine John Wordin, R2R's founder and a world-class cyclist, extended me an invitation I jumped at the opportunity to make a journey with some of America's heroic Wounded Warriors.
Little did I realize the abject humbling ahead, both physical and emotional, once I'd cinched up my cleats, smeared the recommended "liberal amounts" of Chamois Butt'r® upon my "sensitive areas" and saddled up with Purple Heart Veterans ranging from the Vietnam War to today's Global War on Terror, and our team of fellow riders & supporters from the American Legion Auxiliary and USO.
To ride along the back roads of Texas into 40-50 mph headwinds for 35 miles with such brave men as Nathan Hunt, who gave both of his legs in service to America during Operation Iraqi Freedom, is among the most profoundly exhausting yet uplifting experiences of my life.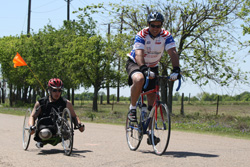 We barely spoke during those five grueling hours, but Nate's determination and resolve to endure spoke volumes to me. I will never again hear the words "I can't" from an able-bodied person without thinking of him. Yes you can, my friends. Yes you can!
Luke "Joe Dirt" Goedert -- his lower back shattered by an IED and now held together with titanium plates and screws -- was pumping along on his hand-bike one non-descript Texas back road afternoon.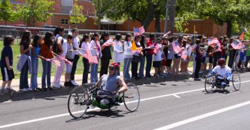 As I pulled alongside he barked, "Hey 'Animal Mother'," a character I once portrayed, "thanks for coming... I don't think too many of those guys in Hollywood would do this. But that's okay," he sang out, "don't apologize for them. They're the ones missing out!"
And with that truth, we chortled and muscled our bikes onward to the awaiting roadside USO Canteen support vehicle and its welcoming diet of tasty PB&J's, hot soup, beef Jerky, and ice cold PowerAde.
When you join R2R, you'll also get to meet American cycling legend Wayne Stetina. Wayne is a three-time Olympian ('72, '76 &'80), and eleven-time U.S. national champion. Among the many things he'll teach you will be the finer points of drafting in a peloton (look it up), and why it's so important to keep pace within your group, especially when struggling into a headwind.
And, should you fall behind, Wayne, John or one of the stronger team riders will be there to lend you a boosting hand on your backside to get you caught up.
On day three we were deeply honored with a hot spaghetti dinner hosted by Ft. Hood's III Corps Commanding Officer Lt. General Rick Lynch, one of General Petraeus' chief architects of America's successful surge in Iraq. The next morning, Sgt. Major Ciotolo and a thousand of his loyal troops and support personnel enthusiastically cheered us 60 miles windward towards Waco.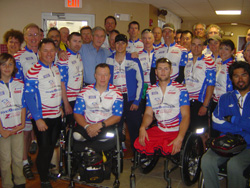 Our final stop in Cleburne, presented Rep. Chet Edwards (D-TX), Chairman of the House Veterans Affairs Appropriations Subcommittee and his constituents -- among them our former Commander in Chief, George W. Bush (R-TX). They met, mingled and joked with us. They also listened to the vital transitional rehabilitative concerns and needs of our Wounded Warriors.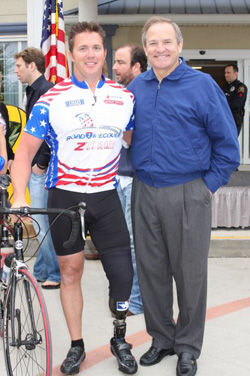 These powerful Texas gentlemen, in a bipartisan/nonpartisan show of goodwill, then gave us a hearty send-off on our last day's ride into Arlington and its Texas Rangers vs. KC Royal's game.
There, on a glorious Saturday afternoon, our ride's General David Blackledge, America's highest ranking officer wounded in Iraq, and Nate Hunt each threw out ceremonial first pitches to the cheers of the assembled crowd.
To those of my Entertainment Industry brethren who have until now missed out on contributing their time (and/or cash please) with our American troops and veterans, whom we all support: "You talk the talk", pace Animal Mother, "Do you walk the walk?" Or better yet, will you please help ride the ride?
Skip your spinning or yoga class for a few days to join an upcoming Ride 2 Recovery event in a show of support to our heroic military men and women and their courageous families.
In my mind, this journey loudly echoes my new friend Duane the warrior's sentiment that this experience is one of the best things that ever happened to me. I promise that it will change your life for the better as well.
Adam Baldwin is a Hollywood actor with 30 years experience in film and television. He is currently working on the NBC series "Chuck", and his credits include the role of "Animal Mother" in Stanley Kubrick's Vietnam War classic "Full Metal Jacket."
For more information on Ride 2 Recovery including to join Adam or Ed Begley Jr. on an upcoming ride or make a donation: Go to www.ride2recovery.com