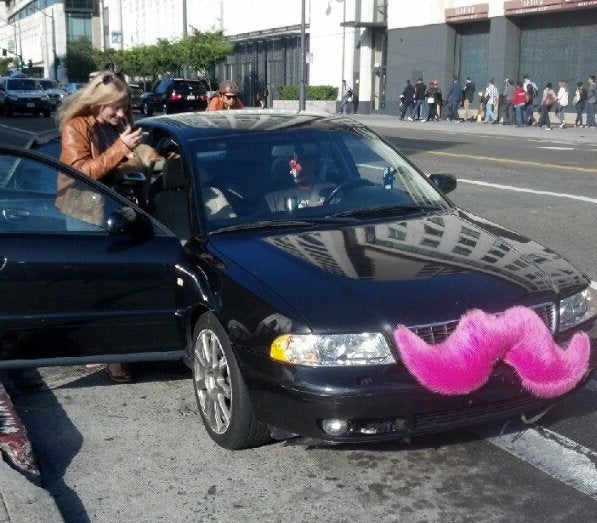 One question pondered by many San Francisco residents during recent months: "What's the deal with all these pink mustache cars?"
Adorned with pink mustaches perched just above their front fenders, the eye-catching rides are the fleet of a new car sharing service called Lyft that turns private citizens' vehicles into taxis that can be called using a smartphone app. Lyft, like its competitor SideCar, are disrupting the taxi industry in a way that's innovative, technologically savvy and part of the "sharing economy" promoted by San Francisco Mayor Ed Lee.
The only problem, according to the California agency that regulates the services, is that they're all breaking the law.
According to the San Francisco Chronicle, the California Public Utilities Commission has issued cease-and-desist letters to both companies, arguing that their drivers aren't carrying the appropriate charter party carrier licenses required to transport passengers.
"Right now the concern is that if I were to be picked up by one of these cars and there is some kind of accident, that [driver's] insurance company may deny that claim," CPUC general counsel Frank Lindh told the Chronicle. "And I would be stuck with those medical bills."
At heart, the core issues revolve around precisely what services like Lyft and Sidecar actually are. In an interview earlier this year, SideCar founder Sunil Paul told The Huffington Post that "SideCar is a rideshare community in which drivers and riders participate voluntarily; it's not a commercial taxi or limo service."
Paul argued this definition was appropriate because SideCar, like Lyft, operates on a voluntary donation system where the app suggests a price the passenger should pay the driver and then facilitates an electronic payment through its system. Operating a ride sharing service is significantly simpler than operating a taxi or town car services because the latter requires jumping through all sorts of bureaucratic hoops for each individual driver--registering with the CUPC, undergoing driver safety courses, carrying at least $75,000 worth of insurance, having special livery plates and taking legal responsibility that any minors in your charge don't consume alcohol--a process that can cost thousands of dollars and drag on for months.
Online town car service UberCab, which operates on a slightly different model, received a similar cease-and-desist notice from the CUPC in 2010 with the threat of thousands of dollars in fines and even jail time. However, the company dropped "Cab" from its name and has been allowed to continue to operate in the state.
The legal definition of ride-sharing in California is relatively narrow: only for transportation between home and work, of "persons having a common work-related purpose" or not having the primary purpose of making a profit. And the CPUC doesn't buy this argument.
"In a sense, there's nothing new with what they're doing," Lindh told the Chronicle, "just the technology they're using."
The letters are part of the CPUC's effort to understand how these new services and technologies fit within the existing regulatory framework. From the beginning, we carefully designed the service to be in full compliance with the law. Additionally, we've gone above and beyond current requirements by offering a first-of-its-kind $1 million excess liability insurance policy to give both drivers and passengers peace of mind. We took the letter as an opportunity to open a conversation with the CPUC and explain what we're all about. Since receiving the letter, we've had productive conversations with CPUC staff about how these services greatly benefit the local community and complement existing alternatives. The Lyft community will continue to operate as we engage in this dialogue.
Car apps like Lyft and SideCar aren't the only parts of the sharing economy to come under fire lately. Last week, San Francisco Board of Supervisors President David Chiu proposed a bill cracking down on apartment sharing sites like AirBnB that some argue deplete the city's precious stock of affordable housing.
Popular in the Community