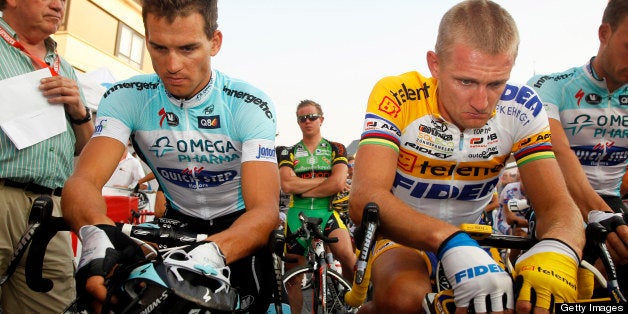 Dozens of cyclists will hear these words before they take to the streets Wednesday night: "The dark sunglasses cover our tears, Remembering those we held so dear, Tonight's ride is to make others aware, The road is there for all to share."
The slow-paced 6- to 12-mile route is part of a worldwide Ride of Silence to remind drivers to share the road and to honor those who were injured or killed while riding. South Florida bike clubs will lead rides in Weston and Delray Beach starting at 6 p.m.
Weston's ride begins at Markham Park in Sunrise and will go south through Weston on Royal Palm Boulevard and State Road 84. Delray's first ride begins at Old School Square Park on the corner of Northeast First Avenue and Northeast First Street and goes north to George Bush Boulevard and south to Seagate Drive.
"We're talking about seconds that drivers aren't willing to wait," said cyclist Celia Conti, who's co-organizing the Weston ride. "They need to realize that we are their neighbors, their doctors and lawyers and we're on the road and we have a right to be on the road."
In 2011, 22 cyclists were killed in both counties. In that same year, there were 382 cycling injuries in Broward and 372 cycling injuries in Palm Beach County, according to the Florida Highway Safety and Motor Vehicles.
The statistics hit close to home for Deerfield Beach cyclist Alfred Baurley who was hospitalized for two days after a driver hit him while he was cycling last year.
Baurley, a senior at Highlands Christian Academy, said he's been hit by drivers six times -- he can vividly recall each time. He'll be riding in Delray's first Ride of Silence Wednesday.
"Physically, it didn't take that long [to recover]," he said of the June accident. "But mentally, it took so much out of me. I really wanted to quit the sport. I didn't want to deal with this anymore -- the constant bombarding on the path, on my lane."
Baurley, who rediscovered his passion for cycling, plans to ride in Delray on Wednesday. He'll attend college this fall in North Carolina on a cycling scholarship. He says he can't wait to ride in a place where people give you "cheerful rather than negative honks" on the road.
Mark Roberts, of Boynton Beach, hasn't been back on a bike since his accident in February 2011.
"I was leisurely riding in front of Palm Beach with my fiance and this car came up behind me and started blowing his horn and yelling for us to get off the road," said Roberts. "Next thing I know, he clipped me with his car and I was being taken by ambulance to the trauma center."
His fiance, who still rides, plans to participate in Wednesday's ride.
"My whole life has changed," said Roberts, 55.
hcarney@tribune.com or 954-356-4188 ___
(c)2013 the Sun Sentinel (Fort Lauderdale, Fla.)
Distributed by MCT Information Services
REAL LIFE. REAL NEWS. REAL VOICES.
Help us tell more of the stories that matter from voices that too often remain unheard.
BEFORE YOU GO