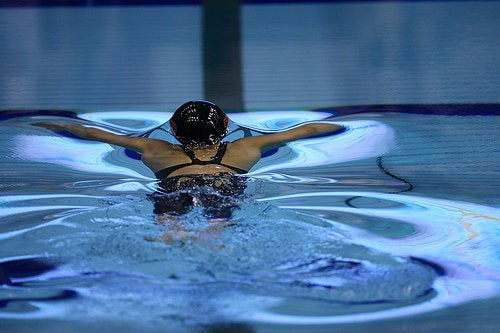 As a lifelong swimmer, when I get a whiff of chlorine, I get excited. But when I saw hundreds of kids swimming in every lane at D.C.'s Takoma Aquatic Center on President's Day weekend, I was thrilled.
The joint was jumping. Lane after lane was full of swimmers racing and practicing; kids' voices echoed throughout the spacious facility, along with parents and coaches cheering them on, talking together, while young swimmers hung out in groups on the sidelines between races. Energy resounded throughout the facility.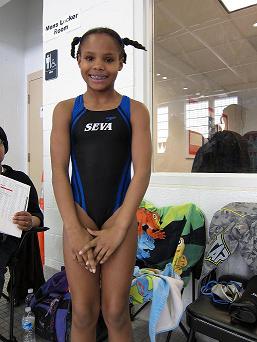 Swimmer Brieanna Romney
So this is an upbeat post. But don't stop reading, because there's plenty of bad news to go around and it can shrivel your soul. Instead, you can feel good about the 26th Annual Black History Invitational Swim Meet, which was something to behold and has an awesome past. And, it might just make you feel good about local government. In this case, D.C.'s Department of Parks and Recreation (DPR), which hosted this year's event with the United Black Fund (UBF).
Called "Ride the Wave," more than 800 youth took the plunge. Thirty swim teams from throughout the country, comprised of minority athletes ranging in age from 8 to 18, competed in the full complement of swim events: freestyle, butterfly, back stroke, breast stroke and (my personal challenge and favorite,) the individual medley (IM), which incorporates all four strokes.
USA Swimming, the national governing body for the sport of swimming, calls it the "premier minority swim competition in the United States and World."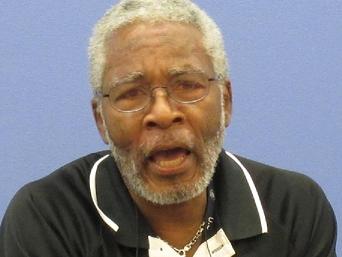 Coach Rodger McCoy
Wow. And when I met some of the dedicated people behind it, I understood why. Like DPR Senior Coach Rodger McCoy. For decades, he was the coach and mentor to thousands of swimmers of all ages. This year's Black History Swimming Invitational honoree and founder of the first meet, McCoy is strong, wiry and gracious and the coach who made the D.C. Wave and Takoma Park swim teams nationally competitive.
The Annual Black History Invitational Swim Meet was founded by Dr. Calvin Rolark and Dr. William Rumsey in 1987 to nourish well-being and healthy competitive activity. Now, hundreds of minority urban youth nationwide flock to D.C. to be part of it. And the history of black swimmers behind the scenes is fascinating. A small sampling: Ambassador Andrew Young was a competitive swimmer at Howard University in the 1950s and subsequently won the International Swimming Hall of Fame award; Maritza Correia was the first black female swimmer to set an American record and in 2004 and to make the U.S. Olympic Swimming Team; and the first African-American swimmer to hold both an Olympic and World swimming record was Cullen Jones in 2008.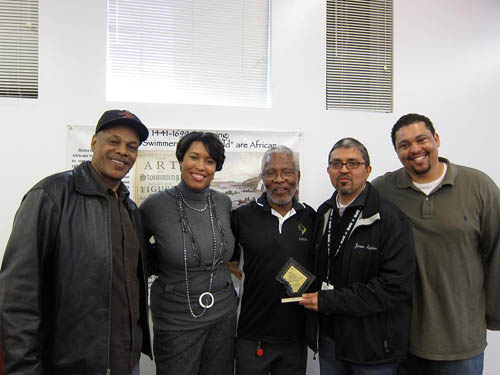 (Right to left) Roy Fagin, former DPR Coach and a 2011 honoree; Muriel Bowser, Ward 4 Councilmember; Honoree Coach Rodger McCoy; Jesus Aguirre, DPR Director; Sean Link, DPR Director of Aquatics
Meeting McCoy was an honor. When he grew up in Virginia Beach, V.A., beaches were segregated and blacks had no facility where they could learn to swim. It wasn't until he came to D.C. in his late 20s that McCoy started swimming -- and quickly excelled -- at the Capital East Natatorium, now called the William H. Rumsey Aquatic Center. Today, he's known as "Coach," and thrives on teaching "kids" from 1 to 103 years of age.
As his son, Brandon, briefly on leave from Afghanistan, stood proudly and watched his dad, McCoy said of his swimmers: "They helped me, they taught me."
Photos courtesy of Georgiana Bloom
Popular in the Community