I'm sitting in my little house at Half Moon Bay, CA, overlooking the Pacific Ocean, where one of the most massive waves on the earth sleeps. The wave -- he is waiting for the perfect match of wind, and weather, and swell and far-off storm to make an appearance. To evoke awe. To make history. The moon ever so slightly lights the now docile sea as I sneak into my bed in the dark. My son is asleep at the foot and tonight I said to him, "Thank you for being my son." He took my face in his hands and said, "My pleasure."
I never thought this would be how it went down. I always dreamed of making a surf movie; the chance for my worlds to collide, for the passion of my father's life and my own ingrained love of storytelling to merge as one beautiful piece of work. But I never thought it would happen. I never thought that the right filmmakers would be telling the right story at the right time. It was always just a far-off dream for me, like seeing that guy in Austria one time as I was getting on a bus and deciding -- as fourteen year olds do -- that I was going to "marry that foreign dude." Or like being able to do pull-ups again after I did ten in a row when I was five and thought that was something I could just do forever.
I never thought Curtis Hanson and Gerard Butler would merge to tell a story about Mavericks. This mythical place I grew up seeing the monster wall of a wave hovering over many a surf poster that decorated the walls of my father's surf shops and surf rooms. One picture in particular stands alone. A picture of Mark Foo riding Mavericks. Mark Foo was one of my dad's best friends. Mark Foo died at Mavericks.
So what am I doing here? I'm making this FOX feature with Walden Media about the story of Jay Moriarity. A kid with a dream. A sixteen-year-old kid who set out to conquer Mavericks with the help of his mentor and guide, Frosty Hesson (Gerard Butler). What am I doing playing Brenda Hesson, Frosty's true life wife -- his heart and soul as he guided Jay to conquer the fear of all fears. The wave. A group of people who, together, created a whole culture of reckless abandon: "Live Like Jay." How did I get here?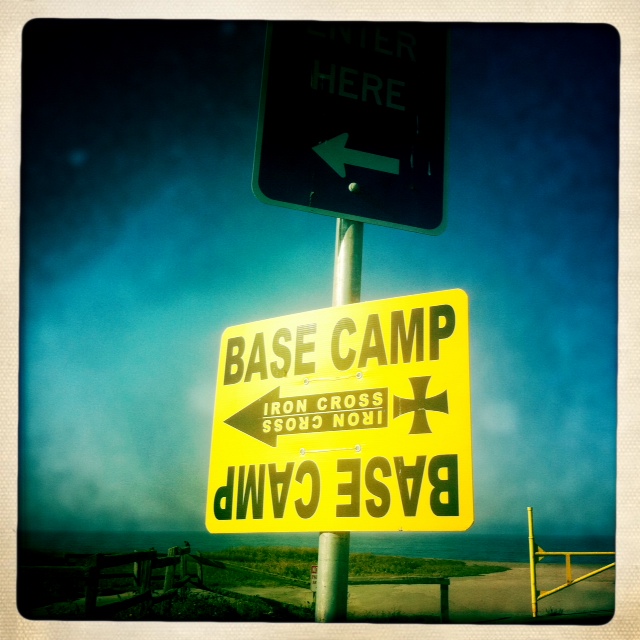 Of Men and Mavericks, "you are here" sign.
Well. I auditioned. I ... auditioned.
It went down like this: Mary Verneiu, legendary casting director, was casting this surf movie, Of Men and Mavericks. My agent and manager heard about it and (them both knowing my intimate connection to the material) had put their feelers out to Mary regarding me for the role. I also heard about the movie through Ariel, a friend of Gerard's. I read the script without a meeting scheduled and I thought, "They'll never cast me." They'll get someone more famous. Or I don't know, more "surf-y." I mean. This doesn't happen. This never happens. Where your whole life, being a famous surfer's daughter who's been surfing since she was four but pursued acting, dancing, singing -- NOT surfing in other words -- you don't get to meld the two loves together. But my father is the reason I'm not a surfer.
My father put me in dance class. My father loved to hear me sing. My father supported this dream. My father supported my fantasies of being in "the talkies." My dad NEVER made me feel bad about what I wanted to do or try to get me to do what he wanted. He sat back in awe, and said this is good. What you want. And you can be good at it. No. You could be great.
But the thing I keep telling myself is: I'm not going to get cast in what will be the biggest and newest classic surf movie since, oh, let's say my personal favorite North Shore. I mean, not with amazing people like Curtis Hanson directing, and Bill Pope on cinematography, and Brock Little, legendary surfer and stunt coordinator, and costumes by Sophie Carbonell, and Brandon Hooper writing, and fantastic young actors Leven Rambin and Jonny Weston & Taylor Handley involved and the amazing Elisabeth Shue. The list goes on and on. You don't get this team together and tuck us away in Half Moon Bay and Santa Cruz. To shoot at the actual spots where it all went down. Where my father's dear friend lost his life. Where the legends become realities outside my windows. It doesn't happen, right?
But there I was. Driving to my audition. Sobbing. Like ... uncontrollable sobbing. I was an hour and half late. I could barely make it in. Because I couldn't believe that the surf movie -- the movie that I would want my father to see, to be a part of, and to love -- had come along ... and he wasn't going to be able to see any of it. He wasn't going to be able to sit in this house and look out over the waves. And drive along the coast. And play with my son at the beach. Or see how they make the surf movies. Or just be. He's not here. He's not here. And it's really hard. It's really (insert obscenity here) hard. The only movie that I would have truly longed and loved for him to be there for every second because I know how happy it would have made HIM. That it would have made his heart sing ... and he's not. Here. And he just missed it, too. I mean. Couldn't it have been last year? Or the year before?
But that's not how it works. The waves aren't meant to be counted. The waves are a mystery. The waves come and go as they please. And when the wave comes, you better be ready. And you better paddle. And you better stand up. And catch it. The wave is no good for you if you aren't in the position to catch it.
And that's why my dad loved the waves. You can't control the waves. You can only ride them.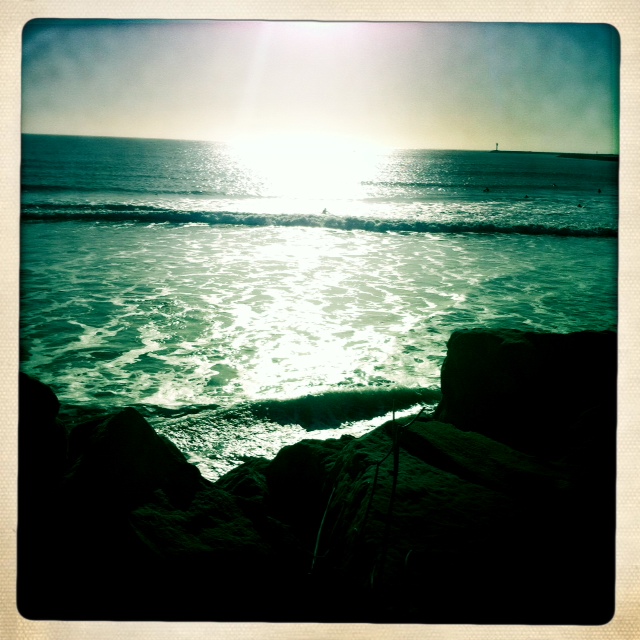 "Mavericks", half moon bay. Surfers waiting to ride the wave.
So I make it to the audition. Just barely. I try and gather myself. I shake Curtis's hand and sit down and recite the scenes that I had maybe looked at once. Mary is reading opposite me. I didn't have to read them over and over. I knew them. My whole life had been a series of moments leading to this one: of knowing and being Brenda Hesson. Telling this story. A surfer's wife? I lived my life every day seeing my mother love and support and not compete with the waves. I spent every day knowing that it could be the day when it all went away. Surfing is like that. Battle. The ocean is vast and unpredictable. And within are things that we cannot predict or contain. And my father went out every day, and every day it could have been his last ... and if he were surfing, that would be all that he would want in that moment.
My father died riding the wave. And I'll continue to ride the wave as I sit here in my house in Half Moon Bay. Waking up in the morning to pay tribute to the life that lives on through me. And my son. At the foot of my bed. I hope. If I can even attain. If I can even gather a glimmer of the love and the pain and the hope and the splendor that my father brought to my life. To the sport of surfing. To everyone he came in contact with -- If it is about a moment to attain some sense of something that keeps the story spreading, and the change happening. And it's not in vain. Then yes. I want to put myself in the position. To catch it. To be ready. To ride the wave.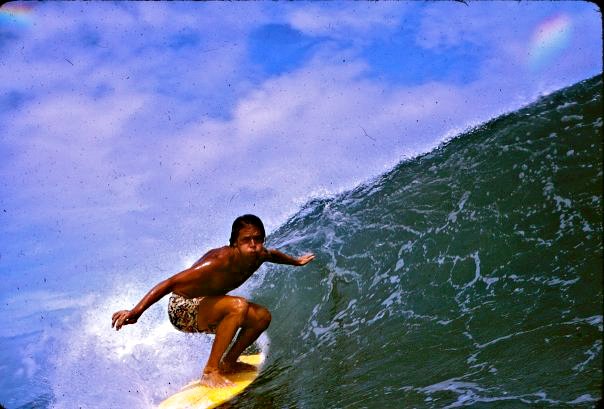 Yancy spencer iii, riding the wave
REAL LIFE. REAL NEWS. REAL VOICES.
Help us tell more of the stories that matter from voices that too often remain unheard.