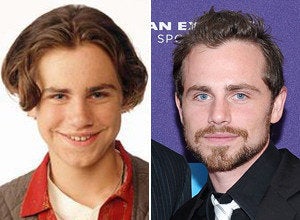 One of the top teen heartthrobs of the '90's is riding a secret geekiness to what he hopes will be a second act in Hollywood.
Rider Strong, best known as Shawn Hunter from the long-running teen comedy "Boy Meets World," has worked over the past decade to broaden his resume, taking on small films and guest roles in numerous television shows. But it's behind the camera, teamed with his older brother Shiloh -- another 90's actor -- that the hands-through-his-hair teen dream truly thinks he can find his new niche. He's on his way, as the Strong brothers brought their new comedy short, "Dungeon Master," to the Tribeca Film Festival over the weekend.
"It's totally a true story," Rider told The Huffington Post at the film's New York premiere. "We used to play Dungeons and Dragons when we were kids. Then we discovered girls," Shiloh chimed in, as the brothers finished each other's sentences. "And then realized they didn't like that, so we let that fall by the wayside," Rider picked back up. "Then we were at a party and we ran into a friend and we were talking to him and we realized that he used to play D&D, too, and we were like, maybe we could try this again and be cool about it. And it was a disaster. And it just went horribly wrong, and the movie sort of grew out of that."
Ironic that someone who played the troubled rebel, so used to having his face on the walls of girls around the world, is such an inner geek -- and is now admitting it to the world on a 50-foot silver screen.
"We had forgotten the rules, so we invited a friend of a friend to come, and this guy was the real deal, like a real geek," Rider laughed as he recalled what inspired the story. "And he knew everything and was so serious about the game and took it so seriously that we suddenly got incredibly insecure. And we realized afterwards that he was having a lot more fun than us because he was willing to let go. We were 'too cool' to play the game, and so we were just interested in that we were 'too cool' to play the game, what does that mean? And so we decided to make this short."
Shiloh admitted that the film stretched the actual events, saying that the short was darker than what really happened -- in fact, they got over their insecurities and ended up playing a few more times.
While his name and former alter ego helps get Rider some recognition, it also can be an obstacle. He told HuffPo that people grew so attached to his Shawn Hunter character that he has to struggle to interest people in his new projects.
"It happens all the time, but people are cool. Everyone's really nice. It's never been an issue; it's always been a very positive experience," he said of encounters with "Boy Meets World" fans. "The hardest part is getting people to follow me into a new creative project. When I do something completely different, it's like, why aren't you just doing a 'Boy Meets World' reunion? But, if you like me in that, why wouldn't you like me in something else? But people don't take that leap and I'm hoping that they will."
He also wanted to set the record straight about that in demand reunion. It was perceived that, after a Twitter petition calling for a reunion of Shawn, Cory Matthews and Topanga, Rider wasn't interested. Not true, he says; instead, there just hasn't been much talk of making one.
Right now, he's focused not on the past, but on his future, which he sees more behind the camera.
"Acting is very comfortable, I think, for both of us," he said. "It's sort of a fallback position, it's just, oh yeah we could keep showing up at auditions, we could just keep doing that. But the reality is that this is so much more challenging, and because it's more challenging, it's a lot more satisfying for both of us."
Shiloh fully agreed. "I'm so excited about being here tonight, this past week. Sitting in an audience and hearing everybody react to a story you've crafted and told and you're along for the ride, more so than acting."
So what's next? If the short succeeds, they're aiming the sights higher.
"We're ready for a feature, and now we just need financing," Rider said. "And whether that's a feature version of 'Dungeon Master,' that'd be amazing -- I have a feeling that would probably be a little too high budget for our first film -- but if not that, we have a romantic comedy that we'd like to make."
And no, the stars will not be named Cory and Topanga.
WATCH
:
Popular in the Community