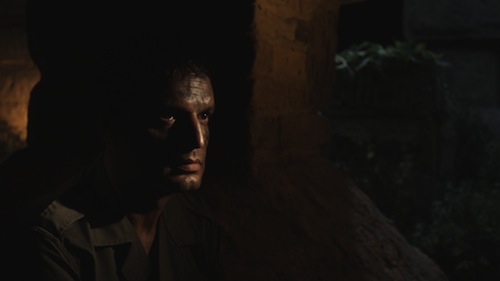 Some films can infuse us with their magic even before we have a chance to watch them. Personally, it may be an image, the mystery of its title or a particular theme which will create in this cinema lover a craving only satiated by watching the film.
Always Brando is legendary Tunisian filmmaker Ridha Behi's latest and it caught my eye, quite literally, right before this year's TIFF. I saw one still from the film, featuring actor Anis Raache, and was hooked. Then, once I read the synopsis I knew I craved to watch this film, a portrait of one man's struggle but also a commentary on issues currently affecting all of us, in this globalized world.
Once I finally watched it this past October, at the 5th Abu Dhabi Film Festival, I was entranced. Always Brando is everything I thought it would be: a unique, deeply moving and stunning film.
In short, Always Brando presents two parallel stories. The first, a narrative, is that of Anis, a handsome Tunisian who bears a striking resemblance to a young Marlon Brando. As an international film crew takes over his village to shoot a project, a seedy actor, played superbly by Christian Erickson, begins to plant dreams in Anis' heart and soon enough, he begins risking it all to go abroad and follow in Brando's footsteps. The second story in the film is an autobiographical insight into Behi's incredible collaboration with the real Marlon Brando, which started in March of 2004 and ended, untimely and before the film they had planned together could even begin shooting, in July of the same year, with Brando's death.
While losing one's main superstar, slated to appear in a film revolving around his life, may have deterred a lesser filmmaker, thankfully Behi dug deeper into his artistic genius and found there a film that absolutely enthralls his audiences. Always Brando tells a heartwarming story that could easily be that of Mohamed Bouazizi or any of the heroes of the Arab Spring. Anis as a protagonist is not what any of us would typically describe as desperate, yet within him there is a craving that only travel, trials and tribulations can satiate. At the same time, Ridha Behi is the film's voice of wisdom, speaking the words of a man who is proud of his country, his religious beliefs and who candidly admits feeling humiliated by the portrayals of Arabs in Hollywood, as in the scene filmed in his home town of Kairouan, Tunisia (substituting for Cairo) for Steven Spielberg's Raiders of the Lost Ark -- featuring Harrison Ford and a black clad "Arab man" complete with turban, sword and incomprehensible shtick.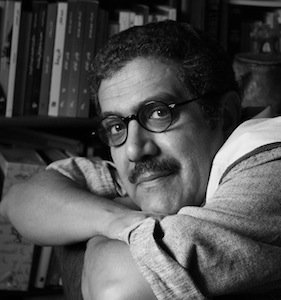 I had the great fortune of connecting with Behi personally, and with his amazing producer on Always Brando, filmmaker and theater personality Ziad Hamzeh, at ADFF. Although I can understand the filmmaker's sorrow at having missed the chance to work with Marlon Brando himself -- on the script that is still central to the film, but is now paralleled by the real-life travails of Behi and the cruel twist of faith of Brando's demise -- I also imagine that the film is now so much deeper because of the added turmoil faced by all. It's obvious that Brando's spirit is all throughout this work of art, in a manner that doesn't distract from the very contemporary themes of desperation, human need for what we do not have and the impossible dream of fame.
So even if Marlon Brando the man does not act in the film, and is only there through stock footage and a few quotes, Brando the legend is the star of Always Brando, as Behi originally intended, in his full glory and grand spirit throughout.
To understand how that is possible, one needs to understand the strong bond that developed between the filmmaker and the actor. Behi admitted that it was challenging at first to get the script of his film to the notoriously reclusive Brando, but that once the actor met with the charismatic, elegant and unassuming Behi, he was enthusiastically on board. "He cried in front of me, and I felt so vulnerable" Behi disclosed, but then pointed out that he was never sure where exactly Brando the actor ended and the real man began.
A main point of attraction to the project for the legendary actor was Behi's Arab, Muslim background, since Brando remained a firm supporter of the Palestinian cause throughout his later years. It was exactly Behi's traditional Arab greeting of respect, shaking Brando's hand then placing his own hand on his heart, which grabbed the actor's imagination and began creating the kind of collaboration most filmmakers can only dream of.
Unfortunately, when the time came to sign contracts and discuss financial matters, it was all a different story, one that Behi still agonizes over today. Behi's producer at the time (not Hamzeh, who came in later) nickel and dimed Brando and precious time was lost. With tears in his eyes, Behi confessed that during those three months of haggling with the superstar, he could have been filming, what could have been "Brando's Last Film". Not that such title is important to this lithe man with a huge heart, but their friendship, the hours of conversation and the idea of capturing his idol for posterity are.
Ultimately, Always Brando poses a controversial question: Could the phenomenon of an Arab superstar like Omar Sharif happen in today's, post-911 world? Again, through some more sheer luck and the help of some great DFI publicists, I managed to ask Mr. Sharif this very question at the recent Doha Tribeca Film Festival. Sharif admitted that he was "very lucky" in his career. But he also continued on to say "I was an Egyptian and 90% of people who were in cinema in Hollywood were Jewish and I was the only Muslim there, called Omar Sharif. They were very nice, they nominated me, gave me awards, they could have said no, he's a Muslim and not do it. " Then, never one to shy away from a bit of controversy, Sharif ended by adding "If we have a Jewish actor here, we won't do the same." Words I'm still pondering today, nearly a week later...Images courtesy of Hamzeh Mystique Films and Shoreline Entertainment, used with permission
Popular in the Community