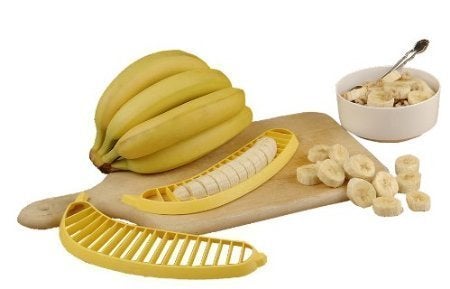 The slicer, which is plastic and shaped like a banana, has spawned a huge outpouring of reviewers. Generally considered completely unnecessary, the slicer has nonetheless earned rave reviews (over 1,000 5-star reviews and counting.)
One reviewer wrote the slicer had saved her marriage:
What can I say about the 571B Banana Slicer that hasn't already been said about the wheel, penicillin, or the iPhone.... this is one of the greatest inventions of all time. My husband and I would argue constantly over who had to cut the day's banana slices.

These are the things that can destroy an entire relationship. It got to the point where our children could sense the tension. The minute I heard our 6-year-old girl in her bedroom, re-enacting our daily banana fight with her Barbie dolls, I knew we had to make a change. That's when I found the 571B Banana Slicer. Our marriage has never been healthier, AND we've even incorporated it into our lovemaking. THANKS 571B BANANA SLICER!
Another said it had really improved his comfort while traveling:
Tthe last time I was traveling by air I was detained by the air marshal when I attempted to use a plastic knife to slice my bananas on a flight from Chicago to Indianapolis (with a layover in Los Angeles). Well that is a thing of the past now that I have the 571B Banana slicer! No worries about a band of baddies taking over the plane with this baby, and now I can eat my bananas in the air as well as on the ground!
Reviewer "Biker Dude" wrote that the slicer saved his life from a band of marauding monkeys, while Coy877 said "Discovering the 571 was like a zoo animal being released into the wild."
There are also some good tips and tricks. Reviewer Margaret Tuttle notes the slicer should never be used as a tampon.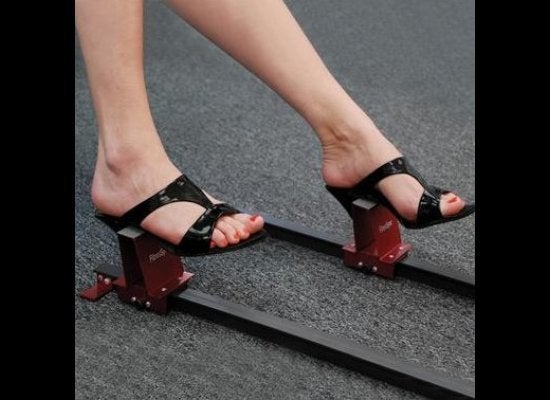 Stupid Fitness Products
Popular in the Community