Until recently, the closely watched race for incumbent Tim Walberg's (R-Tipton) 7th District House seat in central lower Michigan appeared to be his to lose to his opponent, Michigan Senate Democratic Leader Mark Schauer (D-Battle Creek). Walberg beat a popular moderate Republican incumbent, Joe Schwarz, in the 2006 primary and an early poll last March had him up over Schauer, 51% to 40%.
It was in August that EPIC-MRA released new poll results showing Schauer in a statistical tie with Walberg, only 3 points down with a margin of error of 4.9%. As the summer drew to a close, Mark Schauer found his party with a very strong national candidate for president who was ahead in Michigan by double digits. Schauer's own recent internal polling now shows him with a 10-point lead.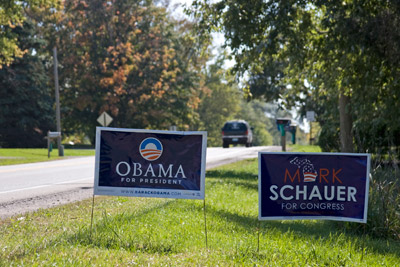 "If you are going to end visits to the state by McCain/ Palin, do it. Just don't formally announce that you are 'pulling out' of Michigan, and then come back two days later asking the base core of support to 'keep working.' What a slap in the face to all the thousands of people who have been energized by the addition of Sarah Palin to the ticket. I've been involved in County Party politics and organization for 40 years, and this is the biggest dumbass stunt I have ever seen...

He has given up on our State? What a total and complete crock of crap. Again, I think McCain owes the Republicans and the People of Michigan a HUGE APOLOGY. SOON!""
This is a difficult position to be in for a candidate that recently claimed, "We'll help [McCain] and he'll help us, there's no doubt about it."
But perhaps the biggest blow to Walberg's attempt to retain his seat came a few days later when his fellow Republican and former opponent, Joe Schwarz, crossed party lines to endorse Schauer. This was described as "a game-changing event" by Lansing State Journal blogger Derek Wallbank:
"...the biggest endorsement left in this race was from Schwarz. He's the sort of politician whose endorsement still matters, where folks sit up and say 'well if Joe says so, then...' And until now, he had been expected to remain quiet. The only comparison I can make on a national level would be someone like Colin Powell or Sandra Day O'Connor coming out for Barack Obama."
This combination of events has caused CQ Politics to move the race from "Leans Republican" to "No Clear Favorite."
Schwarz said his decision was made necessary by Walberg's ties to outside groups helping his campaign. One in particular is The Club for Growth, a pro-Bush anti-tax group that supports free trade, deregulation and Social Security privatization. In 2006 The Club for Growth pumped over a $1 million into Walberg's successful run against Schwarz. This fall they have come to Walberg's aid once again, funding an ad critical of Schauer. Defending his endorsement, Schwarz said, "That to me is the straw that broke the camel's back. I object to political dabblers who stand for nothing other than to create havoc and dabble in a congressional race where they truly have no interest."
In addition to The Club for Growth, Walberg has benefited from efforts by the conservative Freedom's Watch, a group dedicated to promoting the Bush Administration's national security goals. Freedom's Watch has been running radio ads and making "robocalls" on Walberg's behalf.
Walberg has made his reputation as an extremely partisan conservative. A former pastor and division manager for the Moody Bible Institute in Chicago, he recently defended a vote against the Head Start program because it didn't contain provisions that would allow faith-based groups to refuse to hire a Muslim or "a Wiccan from a coven in Ann Arbor", a move that put Walberg on Keith Olbermann's sarcastically named "Best Person in the World" list (not to be confused with Olbermann's "Worst Person in the World" but equally unflattering.) More recently he has been a vocal proponent of the "Drill Here, Drill Now" movement and was involved in the House Republicans' theatrical efforts to force Democrats back from a holiday break to vote on legislation to open up off-shore drilling.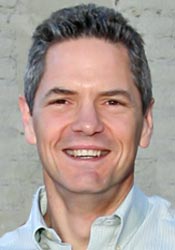 Zack Pohl, Communications Director for the Schauer campaign, told me that this year "Jobs are the number one issue for Michigan voters. Mark Schauer has a clear record of working with businesses in his district to help save and create hundreds of good-paying jobs."
This claim is supported by the Jackson Citizen Patriot, which lauded Schauer's leadership in helping put together economic development packages that kept jobs from leaving Michigan.
Meanwhile, according to Pohl, "Tim Walberg has spent his first term defending the failed Bush economic policies that have cost Michigan 400,000 manufacturing jobs over the past eight years. During a 2004 debate, he even agreed that outsourcing had been good for our economy. Michigan is clearly ready for change, and Senator Schauer has the message and the momentum to win this race."
Walberg's campaign did not respond to an email offering them a chance to comment on the race.
This match-up between Schauer and Walberg has been described by the Boston Globe as one of the 30 most competitive races nationally and one in which the presidential campaign is having a resounding impact. Barack Obama's strong surge in Michigan coupled with McCain's withdrawal are combining with voters' desire to punish the party in power to give down-ticket Democrats a chance to gain seats in Congress. Increased voter turnout for Obama is likely to give Mark Schauer and other Michigan Democrats the edge they need to win these very competitive races.
Popular in the Community