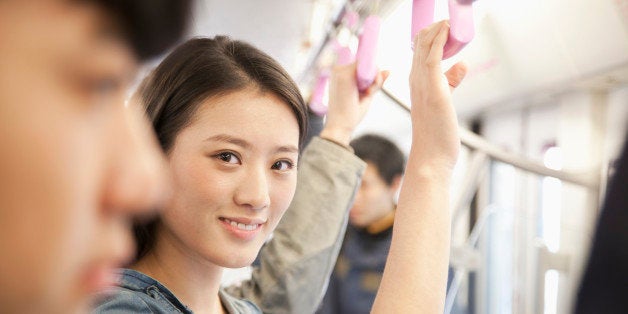 Earth Day is Tuesday, April 22, and like many Americans, you might be stumped about what more you can do to help the environment.
You've recycled, installed energy-saving light bulbs and low-flow water fixtures, turned down your thermostat and even put extra insulation in your attic. What else can you do?
You may have overlooked the most effective way to protect the earth and reduce global warming: taking the bus, subway or train instead of driving your car.
Declaring May Transit Action Month, Sierra Club chapters and members, ATU locals, bus drivers, transit workers and riders will be holding joint events throughout North America encouraging people to ride public transit every day to help protect the environment and fight pollution.
Reduces greenhouse gas emissions
Choosing to ride the bus, subway or train over driving a car saves 4.7 billion gallons of gasoline annually, and significantly reduces greenhouse gas emissions.
A single person switching to the bus, subway or train can cut annual carbon emissions by more than 4,800 pounds.
Communities that invest in public transit curb the nation's carbon emissions by 37 million metric tons annually -- equivalent to if New York City, Washington, Atlanta, Denver and Los Angeles combined stopped using electricity!
With traffic gridlock getting worse in cities across the country, cars now account for about 50 percent of air pollution nationwide.
Public transit also creates healthier communities as riders walk to and from bus stops, trains and helps combat the growing problem of traffic congestion plaguing cities across North America.
Far exceeds any other household energy saving activity
Switching to public transportation offers an immediate alternative for individuals seeking to reduce their energy use and carbon footprints. This action far exceeds the benefits of other household energy saving activities.
Remember that public transit funding is running out and this year we need Congress to keep the green coming to the greenest transportation mode in the world. In short, there is just no better way to clean the planet and promote better and healthier communities than riding public transit.
So, if you're casting about for something to do this Earth Day, why not take the bus, subway or train? And post photos of your Earth Day ride on Facebook and tweet them using hastags #transit and #EarthDay.
In fact, why not take public transit everyday rather than driving your car. It's easily the most effective thing you can do to fight climate change and preserve America's natural beauty.
Calling all HuffPost superfans!
Sign up for membership to become a founding member and help shape HuffPost's next chapter