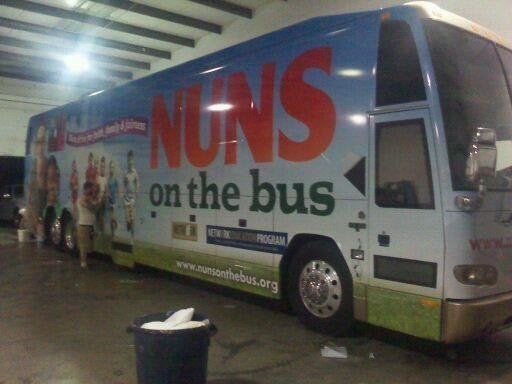 A group of nuns led by Sister Simone Campbell is driving from the small towns of the Midwest to the urban centers of the East to protest the House Republican budget authored by Rep. Paul Ryan (R-WI). They call it 'Nuns on the Bus.'
To see America through the eyes of these Catholic Sisters is to see an America seldom noticed by either politicians or the press -- the America of working families struggling against the odds and of poor people isolated from the mainstream.
Yesterday, they brought their message to Ryan's door, visiting the congressman's office in his home town of Janesville, Wisconsin. There, Sister Simone spoke with members of Ryan's staff and greeted supporters gathered outside.
Our video producer, Andy Fredericks, is on the bus with the nuns -- watch his latest report below and follow our continuing coverage at billmoyers.com/nuns.
Popular in the Community