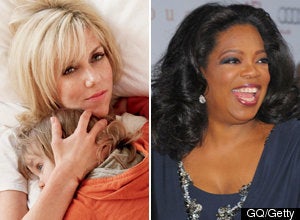 CHICAGO (AP) - John Edwards' mistress tells Oprah Winfrey the former presidential candidate's wife didn't know about their involvement until after Edwards gave an interview to ABC News correspondent Bob Woodruff admitting the affair.
In quotes provided Wednesday by Harpo Productions, Rielle (ree-EHL') Hunter says John Edwards "came clean with" Elizabeth Edwards after the August 2008 interview. Hunter tells Winfrey people who "knew the truth" asked John Edwards not to do the interview. Hunter says Elizabeth Edwards "really wanted him to do that interview," but "she didn't know the truth."
Hunter is to appear on Thursday's episode of "The Oprah Winfrey Show."
John Edwards admitted in January he and Hunter have a 2-year-old daughter. He and Elizabeth Edwards are now separated.
Oprah has landed one of the most sought-after exclusive interviews of the year: Rielle Hunter.
The National Enquirer (the de facto paper of record on Hunter news) is reporting that she will sit down with the queen of daytime for an interview during May sweeps. Hunter will reportedly allow Oprah into her Charlotte home for the interview.
"Rielle is super excited to have Oprah come into her home," the Enquirer quotes an insider saying. "She's excited about giving her account of how she met John, how the affair began and what's in store for her future. Rielle also wants to clear the air about the GQ photos - she's basically doing it to get the truth out and tell her side of the story."
The Enquirer adds that she considered sitting down with Walters or her ABC News colleague Diane Sawyer, but ultimately felt that Oprah was "more spiritual and would get her."
Oprah said last year that she does not pursue interviews all that aggressively.
"I feel like if somebody wants to talk to me, they will talk to me," she said. "If they don't want to talk to me and they want to talk to whomever, fine."
The Enquirer adds that John Edwards encouraged Rielle to go on Oprah because he "wants the world to see Rielle in a different light, not like the home wrecker she's been portrayed."
Popular in the Community