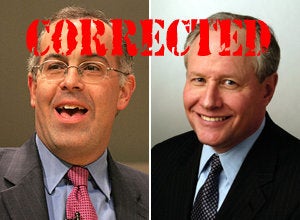 In a rare move, the New York Times offered a total of four corrections today, right under its editorials, covering the two latest columns from conservative op-ed columnists William Kristol and David Brooks.
Kristol has been plagued with errors since his column was launched several months ago, keeping internal and external fact-checkers busy. The man is a correction-generating machine. One of my country music friends calls Kristol and his conservative stable mate "Brooks and Dumb," and they are featured in my new book on Iraq and the media.
Several bloggers quickly pounced on Monday when Kristol declared that Barack Obama faced difficulties as indicated by losing the West Virginia primary by 41% -- which Kristol said was unprecedented for a frontrunner in recent memory. In fact, they noted Mitt Romney had trounced John McCain by much more than that in Utah just this year, and McCain had lost a couple of other contests by nearly that margin.
In his column on Monday, Bill Kristol said he could not find a recent primary in which the candidate who would go on to win the nomination lost by as big a margin as Barack Obama lost by (41 points) in West Virginia. Mitt Romney won the essentially uncontested Utah primary on Feb. 5 with about 90 percent of the vote.

Also, the California Supreme Court is based in San Francisco, not the state capital, Sacramento.
The column by David Brooks on Tuesday said incorrectly that Senator Barack Obama voted last week for the farm bill. Mr. Obama did not cast a vote on the bill; he supported it.

Also, Senator John McCain spoke from Chicago on Monday, not Detroit.
REAL LIFE. REAL NEWS. REAL VOICES.
Help us tell more of the stories that matter from voices that too often remain unheard.