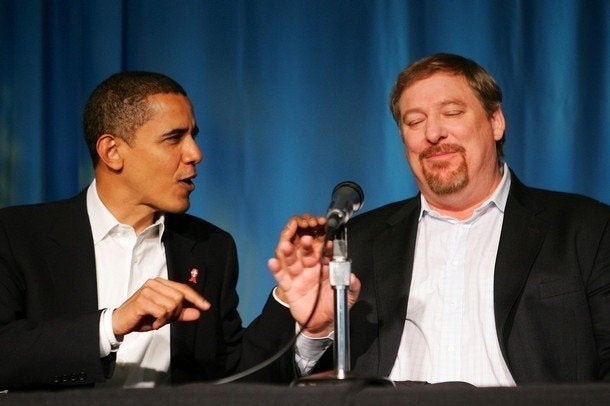 It doesn't look like the Rick Warren controversy is going away anytime soon. Over at Undiplomatic, my day blog, my colleague Annie Oakley has explained why so many are outraged by President-elect Barack Obama's decision to invite Warren to give the invocation at his inauguration.
I don't want to tread the same ground that she and others have so ably covered. That said, I must admit that I'm more willing than many to give Obama the benefit of the doubt. And I agree with those who say it would be a mistake for Obama to rescind the invitation.
But that doesn't mean I agree with his decision. Obama has said that he chose Warren as part of his effort to make his inauguration a celebration of inclusiveness. And I agree that we should come together on inauguration day to honor the man we elected to be President, even if we did not vote for him.
So asking a conservative evangelical pastor to give the invocation was the right idea. The mistake Obama made was not in the message he is trying to send, but in choosing Rick Warren to be the messenger.
It would be tempting to argue that I'm splitting hairs here, that you can't invite a conservative evangelical and not get a homophobe. After all, Mike Huckabee's views are the same as Warren's, as are those of James Dobson, Pat Robertson, and almost any other prominent conservative evangelical you can think of.
An outspoken and polarizing voice in conservative Christian politics resigned effective Thursday from the National Association of Evangelicals after a radio interview in which he voiced support for same-sex civil unions and said he is "shifting" on gay marriage.

The Rev. Richard Cizik's comments -- made on a Dec. 2 "Fresh Air" broadcast on National Public Radio -- triggered an uproar that led to his stepping down as NAE vice president of governmental affairs.

A fixture in Washington for nearly three decades, Cizik has played a key role in bringing evangelical Christian concerns to the political table. But in recent years, he earned enemies in the movement for pushing to broaden the evangelical agenda. His strongest focus was on "creation care," arguing that evangelicals have a biblical responsibility to the environment that includes combatting global warming. . . .

Cizik said in the interview. . . "I'm shifting, I have to admit. In other words, I would willingly say I believe in civil unions. I don't officially support redefining marriage from its traditional definition, I don't think."

Last year, more than two dozen evangelical leaders sought to oust Cizik, who has been vice president for 28 years, because of his "relentless campaign" on global warming.

"For better or for worse, Rich became a great, polarizing figure," said Charles Colson of Prison Fellowship. "He was gradually, over a period of time, separating himself from the mainstream of evangelical belief and conviction. So I'm not surprised. I'm sorry for him, but I'm not disappointed for the evangelical movement."

Cizik spoke mostly on the environment in a December 2 interview with Terry Gross on National Public Radio's Fresh Air, but he made brief remarks about same-sex civil unions, gay marriage, and his early support of President-elect Barack Obama. . . .

"I was stunned when I heard it. I was momentarily speechless, and for me, that's quite a feat," said Richard Land, president of the Southern Baptist Convention's (SBC) Ethics and Religious Liberty Commission. The SBC is not a member of the NAE, but Land and Cizik share similar roles as spokesmen for organizations in Washington, D.C.

"[As spokesmen], we're not hired to express our personal opinions," Land said. "Clearly, under Rich's leadership in Washington, the NAE has increasingly taken positions that have been nontraditional positions for the NAE." . . .

"The role of an NAE spokesperson is primarily on behalf of what we have said, not on behalf of what we have not said," [NAE President Leigh] Anderson told Christanity Today. "It's also to represent our constituency, and our constituency does not favor civil unions."

Leave it to Bush toady Chuck Colson to suggest that someone promoting a real dialogue on controversial issues is a "great, polarizing figure." Hey Chuck, wasn't that exactly what Jesus was?
I've had the opportunity to meet Rich Cizik on several occasions and to work in coalition with him on environmental issues. He has done an outstanding job of educating evangelicals on the importance of environmental stewardship and the need to take action on climate change. He struck me as thoughtful, open-minded and willing to listen to arguments even when he didn't agree with them.
Cizik is not perfect. There are plenty of other issues on which he and Obama would strongly disagree -- most notably abortion (although in the same Fresh Air interview, Cizik did note that younger evangelicals care more about other issues than they do about abortion). Some news reports indicated that he subsequently restated his opposition to gay marriage.
But Cizik, as far as I know, has never suggested that gay men and women are no better than pedophiles. He was openly supportive of Obama's candidacy at a time that Warren, for all his supposed neutrality, was broadly hinting at his preference for McCain. In fact, Cizik represents just the kind of evangelical leader whom the left has always said it wanted: someone willing to open his mind to new ideas, even if, in the end, he chooses not to agree.
Cizik would have been a great choice to give the invocation. Obama would have demonstrated his ability to reach out to evangelical Christians and at the same honored Cizik for his courage and open heart.
Too bad it's not meant to be. It would have been the beginning of a genuine dialogue, which would have been far better than the false comfort of one of Rick Warren's market-driven homilies.
REAL LIFE. REAL NEWS. REAL VOICES.
Help us tell more of the stories that matter from voices that too often remain unheard.