Having been raised in the cultural melting pot of Oakland, California, Carmen Murray grew up imbued with a distinct sense of community and a desire to contribute to the greater good. She has pursued that goal through music and entertainment, having left Oakland for Los Angeles with just a few hundred dollars and a Hollywood dream.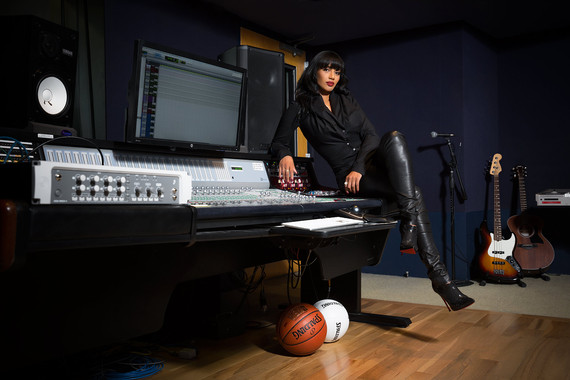 Carmen Murray photographed in one of the many studios she's passing through, meeting with clients, triple-tasking auditioning new talent and making deals. Los Angeles, Ca. © Ian Spanier Photography 2016
She soon realized -- during her first audition, no less -- that things were stacked against her. Typical for a casting call, the room was filled with women who could have been Murray's clones -- yet they all had portfolios, agents and experience. What they lacked, though, was her sheer drive. "I'm a fighter," she says. "I don't quit. If the odds are against me, I want it more." She nailed that first role.
After having spent time in front of the camera, however, she decided to step back behind the scenes. Initial efforts she made to recruit celebrities to return to their hometowns to do good didn't bear much fruit, but from that failure grew an idea: If she could help create celebs in the first place, she'd be able to exert some influence over them. "Not to make stars [just] to make them famous," she says. "I wanted to make stars to make them come back to where they were from, to give back." From that notion was born Title 9 Productions, an artist development and management firm that takes its name from Title IX, the law passed by Congress in 1972 that requires gender equity in any "education program or activity receiving federal assistance."
Murray built her company to prominence while raising two kids -- both of whom, fittingly, are now successful college athletes. Title 9's award-winning collaboration list includes such prominent artists as Alicia Keys, Jay-Z, Justin Bieber and Drake. Still, she remains humble despite all she has accomplished: "I'm just a girl from Oakland." Just? All those who have benefited from her success would surely disagree.
Related
Popular in the Community