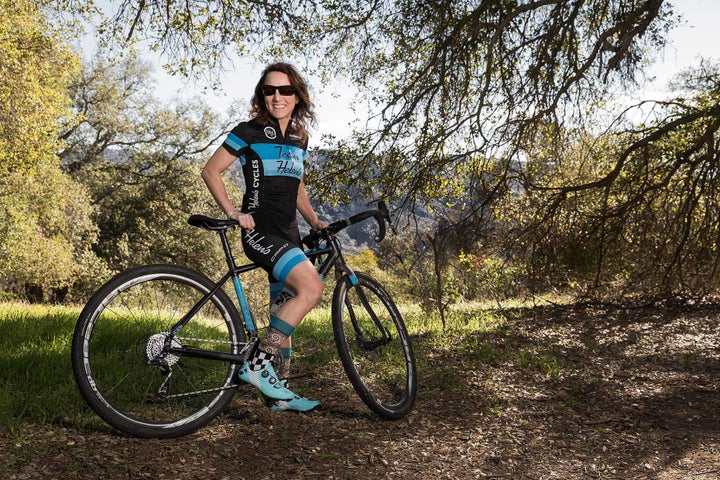 Among her varied attributes, Heidi Volpe is above all a living example of Whitman's famous pronouncement: "I am large, I contain multitudes." A Los Angeles–based creative director and award-winning designer of magazines, books and Web sites, Volpe grew up a frequent visitor to her maternal grandparents' farm in rural Cashtown, Pennsylvania, bearing witness to the timeless truism that food doesn't come from the grocery store. The lessons gleaned during those trips — about health, the environment and even the meaning of life — have shaped her in profound ways.
Having lost both parents to cancer — and survived a bout with a rare form of the disease herself — has given her insight into the importance of health and vitality, which she indulges through cross-country and endurance mountain bike single speed racing. In both 2014 and 2015, she entered a 100-mile Oregon-based race that encompassed 18 thousand feet of vertical ascent. The first go-round, she got lost, went off-track riding and did all the climbing but earned a DQ, disqualified. Year two? She won, beating even the leading man's single speed time.
That's something of a habit for Volpe, one of whose most cherished accomplishments came in what she calls "the near-and-dear-to-my-heart race": the women's record she set in 2015's Fargo Street Hill Climb, an urban biking competition in Downtown Los Angeles. It's a pitched climb up a 32-degree hill, the steepest paved road in L.A.; first place goes simply to whomever can do the most circuits without a break. In years past, the men's winner usually got close to over 100 laps, while the women's rarely surpassed a dozen or so.
Volpe entered intending solely to see how far she could push herself — but then set out to vanquish the men. Her final count: an astonishing 105 laps. (The male leader finished with 80 that year.) "There was too big a gap," Volpe says, shrugging. "I wanted to equalize it."
Her battle with cancer came shortly after her father died. In 2011, she was diagnosed with GIST, a rare form of the illness called a Gastro-Intestinal Stromal Tumor. Her 8-month recuperation inspired her much-viewed 2016 TEDx Talk on the importance of not wasting time, and of valuing experiences over material goods. Watching her mother's life unceremoniously get vacuumed up in the ICU last spring from cancer reminded her to live life in high-def. She nabbed another National Championship in Cross Country mountain biking shortly after her Mother's passing. "Watching both my parents lives float away was a privilege, under scores the fragility of it all."
Many of those experiences, for her, center on food — an abiding interest she credits in part to all those days getting covered in peach fuzz during packing season at her grandparents'. She founded Awesome Pop in 2012, a healthy popcorn snack that comes in a variety of flavors and has become something of a cult hit in the Topanga Canyon. area; the brand has even sponsored a number of local film festivals such as the Napa Valley Film Fest, SIMA, and Topanga Film Fest.
One off-kilter snack she eats that might have made even her rustic grandparents turn up their noses: crickets. There's nothing quite like a handful of crickets and pumpkin seeds to satisfy a nosh, she says, and most of us will be happy just to take her word for it. ("Sometimes the wings and legs get caught in your teeth," she says. "So that's a little creepy.")
Forever on the lookout for what good can be drawn from everything she does, Volpe observes that this unusual six-legged snack is far healthier than junk food, and far more sustainable than animal protein of any kind. It's one way she combats what she calls the inevitable "ephemeral" aspects of her work in publishing. Whatever she's doing, after all, she'll be sure to do it to its utmost. "Stay curious," she says, by way of a benediction, "and press against the edges."
To see more on Heidi, please see the links below:
Related
Popular in the Community