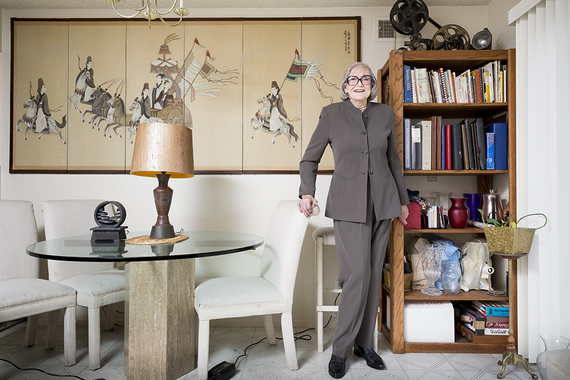 Always quite tall and skinny, Jewell grew up in Canada accustomed to being made fun of. Once, at a dance, a boy ran out on her when she stood up to the full extent of her six-foot-eight frame. "I'll dance by myself," she thought, "and I'll show them." She made her way to Chicago, finding work as a showgirl, and then New York, where she met Lou Walters (father of TV's Barbara), who had opened the Latin Quarter nightclub in 1942. He told Jewell she could make much more money in burlesque -- and after a great deal of practice, she transformed herself into Ricki Covette, the World's Tallest Burlesque Dancer.

She later met and traveled the world as assistant to famed Disney cinematographer Stuart Jewell, whom she married. Together they spent five years traversing the globe to document the environment and the animal kingdom. She was also a successful real-estate agent in California for a time.
Not long ago, Jewell got a call from the Smithsonian Institution, which was seeking artifacts from her career. Newly inspired to return to her halcyon days, she provided the museum with images, gowns and other memorabilia. Now 89, she says she has no regrets: "I did everything I wanted to in my life."
Related
Popular in the Community