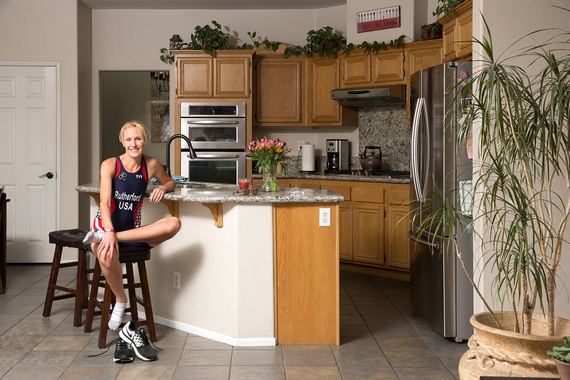 Jeannie Rutherford, triathlete, working mom and brand ambassador for Wings for Life photographed in her kitchen. © Ian Spanier Photography 2016

As a high-school student in Santa Clarita, California, Jeannie Rutherford was a track-and-field standout -- until a dreadful mishap left her certain her racing days were forever in her past. While running, she blew out both legs when her kneecaps dislodged, leaving her with shredded ligaments and unable to walk.
Many years -- and seven surgeries -- later, she was at last able to put full weight on her repaired legs. Then she began, gingerly and fitfully, to run. And run some more. And then some more.
She drew strength and inspiration from her late father, who was her track coach. He passed away during her recovery and never got to see his daughter run again. Just as doctors had worked to reconstruct Rutherford's knees, she toiled to rebuild her will and resolve.
While preparing for a duathlon, Rutherford spotted an ad for a local race called "Wings for Life," that aligned nicely with her training regimen. The start time piqued her curiosity: 3 a.m. On a whim, she signed up. She didn't expect much -- until she crossed the finish line in first place. (The odd start time resulted from the race being a global event hosted by Red Bull. Runners across the World were to begin simultaneously -- hence the short-straw start time in California.)
Red Bull's goal with Wings for Life is to raise worldwide awareness of spinal-cord injuries, and help fund research. The animating idea is that competitors "run for those who cannot," and having experienced nearly three months confined to a wheelchair, Rutherford passionately embraced the cause.
She has since competed in dozens of races -- biathlons, triathlons and more -- as an official Wings for Life ambassador, all the while holding down a job (she works in finance in Los Angeles) and being a full-time wife and mom to her husband and their two children. Injury, she observes, has a way of teaching us what's important, and of equalizing us: It doesn't discriminate. Her story has a happy ending, though, as her devastating setback and courageous recovery have given her life new purpose and direction.
Related
Popular in the Community