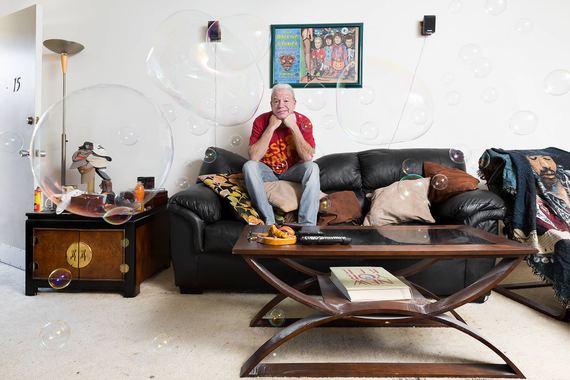 A product of the standup stages of the 1980s, Jon Hayman became a TV writer once he realized, he says, that he'd never end up "hosting the Tonight show." A writer's life, he readily acknowledges, is "not great" -- yet his peripatetic career has nonetheless earned him a place in sitcom history.
His two most memorable stints occurred in the 1990s: working on Chris Rock's HBO talk show, and unexpected fame while writing for Seinfeld. As the show's crew prepped for one October 1992 episode, it began casting for a 14-year-old "prick." The problem was that none of the young actors who read for the part could nail the right attitude. Executive producer Larry Charles decided that Hayman was a bit of a bastard -- enough of one, in fact, to play Donald, the foulmouthed, ill-tempered, now-legendary Bubble Boy.
In the episode, Jerry is asked to perform for Donald in his home in hopes of cheering up the quarantined young man. George and his girlfriend, Susan, decide to rendezvous at Donald's house en route to their planned meetup with Jerry in the Hamptons. George and Susan arrive early, so while waiting for Jerry they decide to play Trivial Pursuit with Bubble Boy.
The game ends prematurely when George disputes Donald's answer to "Who invaded Spain in the eighth century?" Donald replies "the Moors," but because the card is misprinted -- "the Moops" -- George won't give Donald credit. Donald attacks him. In the melee, Susan punctures Donald's bubble, and George is accused by irate townspeople of trying to kill him.
A timeless TV role -- but because a 38-year-old Hayman couldn't quite pass for a teen, only his arms are seen on camera. It was perhaps a fitting part for Hayman, who got out of standup comedy due to the grind. When that happens, he says, "the only other outlet, the only way you can make a buck using your sense of humor, is to write" -- in this case putting pen to paper to create an indelible TV-comedy classic.
Calling all HuffPost superfans!
Sign up for membership to become a founding member and help shape HuffPost's next chapter