Jonathan Burch grew up in a Christian household on California's central coast. As a teen, when he was teased by a classmate for being Jewish, he approached his mother to ask her about her heritage. His curiosity piqued, he soon immersed himself in that half of his lineage, however, devouring books about Judaism and, more pertinently, Israel. He couldn't quite understand why, but the bond he felt was intense.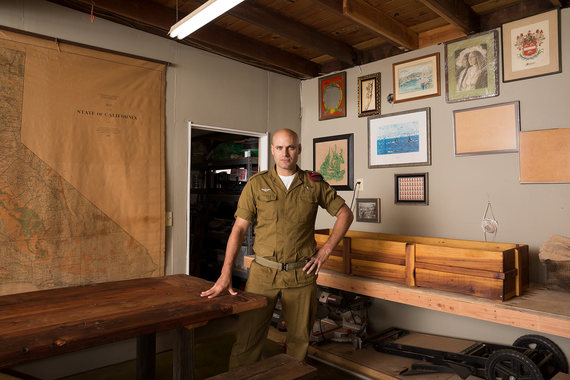 Ex- Israeli Special Forces Jonathan Burch photographed in his home workshop. Burch was raised Christian but had an innate connection to Isreal, which led him to enlist to the elite special forces known as Sayeret Tzanhanim after 9/11. After returning to the US and working in private security Burch currently protects one of California's nuclear power facilities. With no formal training, Burch has taken to woodworking as new hobby, building tables and benches, many from reclaimed materials. © Ian Spanier Photography 2016.
In the wake of 9/11, Burch, 23 at the time, decided to move to Israel and join the Israeli Defense Forces -- specifically Sayeret Tzanhanim, the country's elite reconnaissance paratrooper unit. First, though, he attended an ulpan, an intensive school where he learned to speak and write Hebrew, and then spent time on a kibbutz to soak in the country's culture and social mores. He was surprised that he didn't have to convert to Judaism to join the IDF, and indeed he served alongside Christians, Muslims and Druze (an offshoot of Islam) in the Israeli military.
He was, however, required to make aliyah, the process by which one becomes an Israeli citizen. When he finally received his citizenship card, he was moved to tears. He told the immigration officer he didn't know why he was crying; she replied that she did. "Your soul is here," she told him. "You have arrived."
After four years, he returned to America, putting his military experience in the Middle East to work as a bodyguard for a number of pop stars, as well as helping train U.S. soldiers and law-enforcement officers. His own elite training has made him highly sought-after, which led to his current position at the Diablo Canyon Nuclear Power Plant, on the California coast some 200 miles north of Los Angeles.
In an ironic twist, now that Burch is back in the state he grew up in, his parents, enchanted by Israel on their many visits to see their son, now live there full-time. In a way, Burch muses, it's the closing of a circle that opened decades ago -- when a teenager in search of an identity first asked his mother what exactly it meant to be Jewish.
Related
Popular in the Community